From the
ATWB Customer Gallery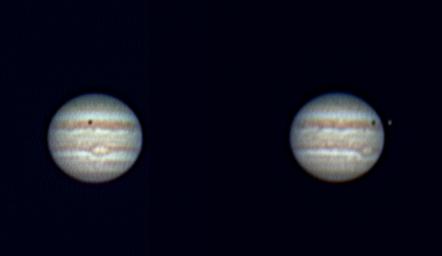 Jupiter & Io transit
iOptron SkyGuider Mount and Tripod
Like new condition -- purchased new in 2015 and used for a couple of trips to National Parks and then stored in a closet.  Works very well -- I just don't use it at home as I have a permanently installed equatorial mount.

Includes:
- mount with polar scope and padded carry bag
- steel short field tripod, along with padded carry bag
- counterweight shaft and toe saver end screw, 3.5 lbs counterweight
- 12V power cord, polar scope illuminator cable
- polar scope protective cap
- short latitude adjustment knob for lower latitudes
- original manual and original iOptron shipping box

Shipping included to lower 48.  Add 3% for PayPal.

Telescopes, Astronomy, Binoculars