From the
ATWB Customer Gallery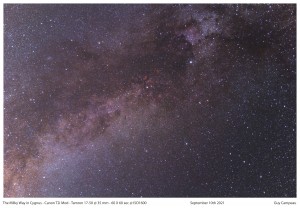 The M ilky Way in Cygnus
Paramount ME II In Stock Ready to go
The table below compares the Paramount ME II and Paramount ME
Component

 Paramount ME II

Paramount ME

Control system electronics

MKS 5000  (Fifth generation)

One board  includes all ports and control system  electronics

MKS 4000 (gen 4) and Adaptor Panel

Two board design; Adaptor Panel includes plug in ports; MKS 4000 board contains the control system electronics.

 

Counterweight shaft 

47 cm (18.5 in.)x 4.8 cm (1.875 in.) 
Carries up to six counterweights

46  (18 in.) long and 3.8 cm (1.5 in.) in diameter 
Carries up to six counterweights

Counterweights

14 kg (30 lb), two  included

9 kg (20 lb), two included

Declination bearing

8-in (48 contact points)

6-in (14 contact points)

Declination gear diameter

9.5 in.

7.5 in.

Declination housing

5 in. x 0.5 in. wall 6061 aluminum tubing

Rectangular aluminum box (6061)

Declination shaft diameter

3.0 in.

2.0 in.

Declination worm diameter

1.0 in.

0.75 in.

Hours past meridian (track and slew)

2 

0.33

Maximum slew speed
4 degrees per second in right ascension and declination
3.5 degrees per second in right ascension, 5 degrees per second in declination

Motor diameter

2.3 in.

1.7 in.

Motor torque

30 in-oz

11 in-oz

On axis encoder (optional)

None

Physical hard stop position

Configurable

Fixed

Power supply

200 W

80 W

Right ascension bearing

8 in. (48 contact points)

8.6 in. (18 contact points)

Right ascension gear diameter

11.4 in.

11.4 in.

Right ascension housing

7 in. x 0.5 in. wall 6061 aluminum tubing

Rectangular aluminum box (6061)

Right ascension shaft diameter

3.0 in.

2.5 in.

Right ascension worm diameter

1.0 in.

1.0 in.

Software included

TheSkyX Professional Edition for Mac
TheSkyX Professional Edition for Windows
TPoint Add On (Mac and Windows)
Camera Add On (Mac and Windows)
Multi-OS and Six License Add On for Mac and Windows

Bisque Observatory Software Suite

Through the mount cabling

Large diameter cable conduits.Cables can be run through the mount without altering polar alignment, removing the optical tube assembly, or altering the polar alignment and no mount disassembly is required.  

 

Smaller diameter cable conduits, some mount disassembly required when adding cables.

USB ports on Instrument Panel

Two (2)

None

Weight (mount body with no payload)

38 kg (84 lb)

31 kg (69 lb)

Weight capacity (total payload without counterweights)

109 kg (240 lb)

68 kg (150 lb)
The Paramount ME II and the Paramount MX
On-Axis Encoder Details
Software Bisque plans to offer optional on-axis encoders for the Paramount ME II in mid-2013.  The tentative (and subject to change) details about optional on-axis encoders are below:
Will be an optional component for the right ascension axis and/or the declination axis of the Paramount ME II.
Should allow all sky pointing accuracy (with TPoint) to 5 arcseconds or less.
Essentially eliminate periodic error.
Axis always knows its orientation (no homing required).
The Paramount ME II right ascension and declination axes are already designed to accept on-axis encoder hardware and cabling.
Paramount ME IIs purchased before the on-axis encoders are available must be returned to Software Bisque for on-axis encoder installation.
Must be installed by Software Bisque and cannot be installed by third-parties.
Cost an estimated $3,000.00 per axis.
Software Bisque will email all registered Paramount ME II owners when they are available.
On-axis encoders will not be available for the Paramount MX Robotic Telescope Mount or the earlier generation Paramount ME Robotic Telescope Mount.
While on-axis encoders have many benefits (see above), they should not be considered the "panacea" for taking long, unguided photos. Fortunately, TPoint's ProTrack (a technology exclusive to Paramount mounts) compensates for flexing OTAs, differential refraction and other external factors that degrade tracking accuracy and cannot be "fixed" by on-axis encoding
Save
Share

Telescopes, Astronomy, Binoculars