From the
ATWB Customer Gallery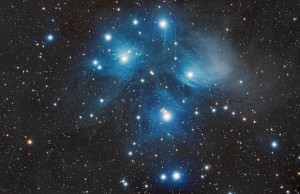 M45 Pleiades
Paramount ME mount - $4,500
Paramount ME mount - $4,500
Paramount ME mount and Versa-Plate
Paramount ME User's Guide
All software on USB drive- TheSky, TPoint
Counterweight bar and extension, and four 20 lb. weights, and one 5 lb. weight
This is the original version, the Paramount ME.  I purchased this new from Bisque in 2005. It has been housed in my permanent dome observatory ever since, covered when not in use.
Buyer can pick up in Jackson, WY, or I can ship to you at your expense.  Crating would be at your expense, and you can indicate how many counterweights you need.
From the manufacturer's web site: "The Paramount ME™ Robotic Telescope System features a German equatorial mount with research-grade 11-inch right ascension gears that provide unsurpassed tracking performance.
Astronomers equipped with a Paramount ME are defining new levels of reliability, productivity and performance. Hefting up to 150 pounds of astronomical equipment, and designed for uninterrupted operation, the Paramount ME can be used as a remote or Internet Astronomy™ solution. Through advanced CNC construction, it is field portable at 68 pounds.

Telescopes, Astronomy, Binoculars