From the
ATWB Customer Gallery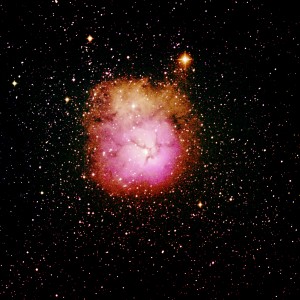 M20 Trifid Nebula HSO
Paramount ME2 - Factory Re-Built - Ships from the factory!
REDUCED to $11,750.  The rebuild is nearing completion and I'd like ship directly from the factory in Colorado.

Selling my 6 year old ME2 after years of service at Sierra Remote Observatories.  To ensure the next owner gets a top quality piece of equipment I have sent it to the Bisque/Paramount factory for a complete rebuilt to new specs.  I'll attach the quote listing the work to be done and the amount I'm paying for the work.  In summary they say "Rebuild mount as new, and make as "cur rent" as possible."  In my opinion this is the next best thing to brand new as any amount of use causes wear to the gears, worms, etc.  

The mount will ship to you from the Paramount factory in Golden, CO.  You should be able to speak to them about the condition if needed.  Estime for completing the work is around July 1st.  Since it is at the factory it might be a good time to get encoders installed if you are looking for that.  

I don't have a recent photo as this was a remote scope that was shipped to Bisque by the onsite staff.  It was boxed for the last year at the observatory waiting out COVID to get the work done.  However, you can see a picture it on the SRO Telemetry page, it's the one on the left :)    The picture attached is from a few years ago.

Price for the mount is $12,000 REDUCED to $11,750 = 25% off of new price of $16,000  

I also have two extra 30 pound counter weights in addition to the two that come with the mount.  $325 each (new is $395)

And I have the Paramount Pyramid Portable Pier available at $1500 (new is $2300) Pier is sold

Buyer pays shipping.  If you are in CA, OR, or WA face to face delivery/pickup of the counter weights and accessories might be possible.  Mount head will ship from Golden, CO.  

If you would like to see sample images using this mount check out my astrobin page, user name Morefield.  Look for images prior to May 2020.

Telescopes, Astronomy, Binoculars