From the
ATWB Customer Gallery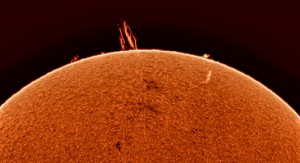 Large prominence 10/22/2020
Precision-Adjust Rotating Pier Adapter with Azimuth Bearing - 1200 (1200RPA)
This pier adapter rotates on a bearing surface for ultra-smooth operation. This allows you to lock the mount down with no need to loosen the base during azimuth adjustment. This option is especially recommended for use in the field.
Includes:
Two assembled machined plates
Four machined aluminum lock knobs ($54.00 from A-P)
Four 5/16 x 1.5"OD flat washers
Azimuth adjuster block
Six 5/16-18 x 5/8" socket buttonhead screws
Six 5/16 x 9/16"OD x 0.060" flat washers
All machined parts are black anodized. This adapter will mount directly into an Astro-Physics Portable Pier.  Cost from astro-physics is $395 plus shipping and tax.
Mounts:
All 1200 mount models (DA, QMD, SMD and GTO) that have been produced.

Telescopes, Astronomy, Binoculars