From the
ATWB Customer Gallery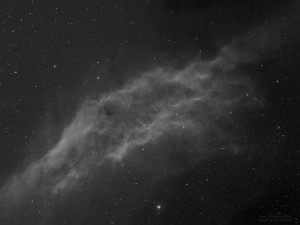 NGC 1499
SkyWatcher EQM-35 Pro Mount + Extra Accesories
This is a good quality mount meant for small to medium sized scopes. I only used it about 6 times, so its in very good condition.
Info about the mount:
Sky-Watcher computerized equatorial mount with goto capabilities
Converts to tracking mount via removable declination assembly
Accepts up to 22 lb. payloads
SynScan hand controller features a database with over 42,900 celestial objects
Dual or single axis tracking
Comes with two 7.5 lb. counterweights
Integrated polar scope
Adjustable height tripod with steel legs
Works with Star Adventurer Dec L-bracket and ball head adapter
The following items are included...
The mount
7.5 lb. counterweights
*power cord (see below)
single axis star tracker adapter (additonal accesory for this sold seperately)
instruction manual for synscan controller and controller bracket
screw driver, allen wrench and some extra screws
extra wrench
green vixen dovetail mounting bar
*Extra Accesory- ADM dual dovetail mounting plate T-bar (fits on the mount)
*Extra Accesory- ADM dovetail DSLR mounting plate (already attached the the T-bar)
*
For the power cord, you'll need to purchase a 12v ac-dc (5-6 Amp) adapter if you dont want to use the car charger plug.

 Don't hesitiate to contact me if you have any questions!

Telescopes, Astronomy, Binoculars