From the
ATWB Customer Gallery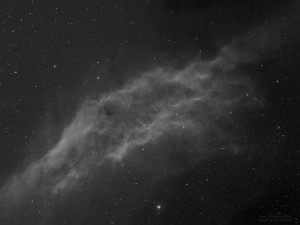 NGC 1499
Software Bisque Taurus 400 Mount with absolute encoders & Pier (revised price)
Software Bisque Taurus 400 Mount with absolute encoders & Pier (revised price)
We offer a barely used Software Bisque Taurus 400 Equatorial Fork Mount with absolute encoders & 24" Pier for $15,500 (plus shipping).
The new street price for these (both on backorder) are $21,495 (including a $500 packing fee) and $1,050, respectively (plus shipping).

Built to carry large astrographs and telescopes up to 0.4 meters.
Compact mount can be set up by one person (breaks down into 5 manageable pieces).
Sub-0.1 arcsecond resolution on-axis encoders.
Belt driven gears with spring loaded worm to gear interface results in virtually zero backlash.
Through-mount cabling.
Power supply and PC to mount cables included.
You will need to order plates to connect your OTA to the fork mount arms.

Pickup preferred, but the mount & pier are already crated and ready to ship.

Telescopes, Astronomy, Binoculars