From the
ATWB Customer Gallery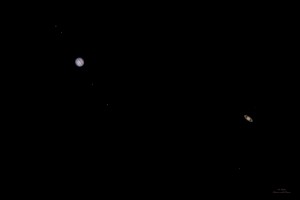 Saturn-Jupiter Conjunction 2020
Super Polaris DMD-1 and MT-1 Motor
I have a very good condition DMD-1 controller for sale. Also included:
2 MT-1 motors. One works fine, the other just clicks. Swapping axes on the controller confirms it is the motor.
Someone with more know-how than me may be able to get it working.
2 motor covers. A couple teeth are missing but they appear to work OK. Average condition.
2 sets of gears and clutches - Good condition
6AA battery pack
120V AC to 4.5-9V DC power supply with negative polarity that is REQUIRED for this controller.
$140 for the lot. Buyer pays shipping. I'll cover the paypal fee. Paypal and CONUS only.

Telescopes, Astronomy, Binoculars