From the
ATWB Customer Gallery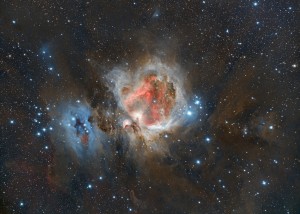 Orion and running man
Takahashi EM-200 Temma 2 Mount
Takahashi EM-200 Temma 2 mount in Excellent condition, lovingly used and never abused. The mount provides an accurate and stable platform for payloads of up to 40 pounds. I have had a 10-inch SCT, Tak TOA-130 and an TAK FS-78 on this mount without any problems. The RA and DEC stepper motors are fully integrated into the mount, the mount is built like a tank as is most Takahashi equipment, the high precision design and construction provides cyclic errors lower than +/- 5 arc seconds and error is smooth and regular. The integrated polar alignment scope and the precision altitude and azimuth adjusters will typically give polar alignment accuracy within 2 minutes of arc of the pole. This version of mount can be driven at either 12 volts or 24 volts, with a slew speed of 350X to 700X. The counterweight shaft slides into the body with a release lever making it compact and easily to deploy.
There are different versions of the EM-200 which originally came out in 1989, there is the USD, the Jr. the PC, Temma 2, Temma 2Z and the newest coming out this year sometime is the Temma 3. All have slight differences, best to read on the mount and history to understand what you are buying, mine is the Temma 2.
Comes with the standard equipment - Hand Controller, RS-232 Serial cable for connection to PC and includes a Serial to USB adapter. Guide Cable with ST4/SBIG Guider cable. Two 11-pound counter weights, manuals, TAK Certificate and Takahashi Tracer Pegasus 21 software with manual. 
Comes with the following additional items: 
Takahashi 110V to 24V 6.5 Amp Regulated Power Supply in Pelican case.
CCD ASTRO 24VDC/12VDC converter - powers the mount through a 12-volt lighter plug. 
EM-200 Scope Guard Case, holds tripod tray, mount wires, hand controller, etc. 
Takahashi SEM Tripod for EM-200 with a bag. 
Astro-Physics Portable Pier 6 inch by 48 inches tall, rock solid, painted Tak Green so it matches the mount nicely and a padded zippered bag. 
Custom Adapter for Tak EM-200 to Astro Physics Pier, I had this part machined for the pier/mount myself. 
Takahashi Pier Adapter for EM-200 Mount, sits on top of the pier to mount the EM-200 and allows for easy rotation and adjustment.
Additional Takahashi 11-LB. Counterweight allowing you to utilize the mounts full capacity.
I use the pier in the backyard and tripod for darker sites.  Willing to split the cost of shipping in the lower 48 and the 3% PayPal fee. unless you want to use the friends and family option, I can also take Zelle if you are a Wells Fargo customer.  Located in Livermore, CA, I will reduce the price by $100 for a local buyer.  A brand-new mount will run you $5,210 (Temma 2Z) plus tax and shipping, but when you add in the accessories, you are pushing $8K. I will be glad to entertain reasonable offers and answer any questions you have. I am selling all my astronomy equipment due to health issues. Also have my TAK FS-78 Scope for sale under refractors.  Thank you - 

Telescopes, Astronomy, Binoculars