From the
ATWB Customer Gallery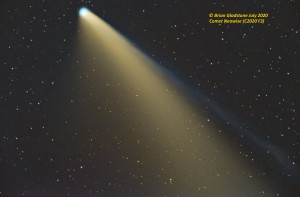 Comet Neowise c/2020 F3
Collins I-Cube with Thin-filmed Tube and accessories
This excellent condition Collins I-Cube (I3) image intensified eyepiece comes from the last batch of units produced by Collins Electro Optics.
The image tube is an ITT Gen 3 thin-filmed tube (current technology) with excellent performance.  Many earlier produced I-Cubes had lower performance standard film tubes unlike this unit with its thin-filmed tube.
This I3 can be used in two configurations:
In a telescope using the included 1.25-inch removable nosepiece. See globular clusters like they look in photographs, but in real time!
As a low power (2x) hand held or tripod mounted monocular for scanning the sky. Works very well for meteor watching.
The output screen is very clean (free of noticeable dark spots) per the listing pic.
This tube has about 150 hours of use (based on battery changes) and the unit has ONLY been used for astronomy purposes.
I am the original owner of this unit.
This sale includes the following:
Collins I-Cube unit with 25mm ocular (with end cap) and factory installed tripod adapter (1/4-20 female thread)
50mm/f1.3 objective with 48mm front filter adapter for 2-inch astro filters and front cap
25-inch telescope nosepiece with 1.25-inch filter threads and end caps
One extra c-mount adapter for other front accessories, e.g. other objective lenses (not included)
CE Optics image tube performance spec sheet specific to this unit
CE Optics operating instructions
Please note that due to ITAR restrictions, this item can only be sold to legal US persons residing within the USA.
PayPal buyers, please add 3% if funding via a credit card (or e-check, apparently?).
Thanks for looking.

Telescopes, Astronomy, Binoculars