From the
ATWB Customer Gallery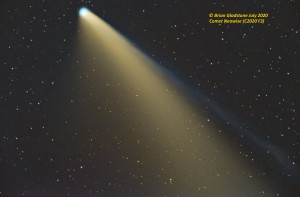 Comet Neowise c/2020 F3
[SOLD] ENVIS Lens for Mod3-C NV device, excellent condition
ENVIS is now sold.
ENVIS C-mount threaded 27mm f/1.2 objective for the Mod3-C night vision device (and other C-mount NV devices, e.g., the Micro).
This lens is in used but excellent condition, glass surfaces and body are clean.  
If you are looking at this ad you probably are aware that C-mount ENVIS lenses are now very hard to come by but sought after by those astronomers choosing the versatile Mod3-C for their night vision set-ups.  My understanding is that the ENVIS is a C-mount version of the same lens that comes with the PVS-14 NV monocular (which is not C-mount threaded). One advantage of the ENVIS is that it accepts same accessories as the PVS-14 such as the Tele Vue afocal adapter. 
After a long wait/search I purchased this lens on eBay from a trusted seller a couple of months ago who has sold several used surplus ENVIS lenses sourced from military issued M703E devices.  I note that these are now listed for $400 on eBay.  My plans have changed and I have decided not to invest in a Mod3-C so I have no need for this specialized lens.  I am only looking to recoup what I paid at the time, which is $375.  
This is an opportunity to get the real-deal military spec'd lens optimized for military issued night vision devices. 
The ENVIS lens apparently also falls under the State Department ITAR restrictions on NV devices so no foreign sales are allowed - sorry. Buyer must be US citizen shipping to US address only.  If you have or are planning to purchase an NV like a PVS-14 or Mod3-C, you are no doubt aware of the ITAR.
Thanks for looking - I'm happy to answer any questions, as best I can.

Telescopes, Astronomy, Binoculars