From the
ATWB Customer Gallery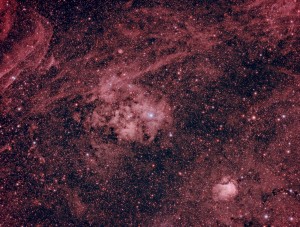 Sh2-115 Nebula
Baja California dark sky property/house
Ranch with custom adobe home and 1230 acres (500 hectares)of titled property located in the Sierra de San Pedro Martir, 3.5 hours South of Ensenada.
Off roaders paradise, located 15 km South of Mike's Sky Rancho and 30 km from old Rancho Meling.
Will sell house and outbuildings with 250 acres or all the ranch as a whole. Perfect for a yoga or artist retreat, language school or airbnb cabin rentals for off-roaders or nature lovers.
Multiple severances available for family members or investment partners, contact for information and prices.
The property lies at 5000 feet of elevation 6km North off of the paved Observatory road. Entrance is on a 4x4 dirt road only. The property is a mix of live oak and pine with high desert chaparral forest. There is year round running water and several springs. Large apple, peach, pear and plum orchards. Could be a great area for growing nut trees, wild pecans on the property doing very well as well as heritage grapes and new varieties.

2700 square foot custom built adobe house. 3 bedrooms, 2.5 baths (with large walk-in showers and bath in master), main living/dining room, custom kitchen with granite and appliances, solar/utility room. Custom Saltillo tile flooring.

Fireplace with a woodstove insert-water is solar heated/or on-demand gas. Powered by a 3.00 Kilowatt PV solar array with Outback Inverters and charge controllers. System is 24 volt with AGM sealed batteries.

Water is supplied by gravity with a back up solar pump to 5000 litre Rotoplast on the hill above for 60 lbs PSI.

Large outdoor patio areas with custom stonework and pebble mosaic paths-wood fired outdoor grill and adobe pizza oven. Established gardens with perennials, bulbs and grape vines as well as native cacti.

Furnishings in house and all stainless steel appliances-stove-fridge-washer-dryer as well as dishes and bedding and tools needed for maintenance of property (lawn mower etc) are included. The guest house is completely furnished.

House has unlimited high speed satellite internet and Telcel cellular signal via cell signal amplifier.

Separate 575 sq. foot guest casita includes two bedrooms, sitting area and large walk in shower in bathroom. Saltillo tile flooring throughout. Propane heater and water heater.Fully furnished.
Area in front of casita includes a large BBQ area with wood fired grill and sink with running water. Power comes from main house-also solar.

Two trailers included-27' 2007 Kingsport Gulfstream- Could be used as a caretakers residence.

20' Older trailer used as tool shed.

24' x 12' Horse stable with tack/hay/tool storage room-5 acre electric and wire fenced pasture with running water.

20' X 20' roll off roof observatory with electrical power.

12' X 12' roll off roof observatory with views to the Pacific Ocean

12' X 12' Observing pad

Chicken coop with enclosed run-40'X 40' fenced raised bed vegetable garden-16' X 24' Outdoor terrarium/frog pond.

Established apple orchard with new peach. pear and plum orchards.

Included 2007 Ford TT75 4 wheel drive tractor with front loader and rear scraper blade and a Honda gas powered wood splitter as well as a generator for backup house power.
Multiple severances are available for future use as well.

Telescopes, Astronomy, Binoculars