From the
ATWB Customer Gallery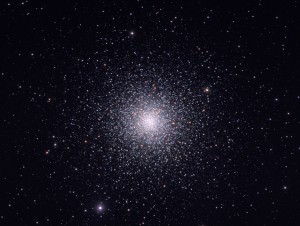 M3 Globular Cluster
Dark Sky Lake Cabin
Cabin on Council Grove City Lake.  Council Grove is roughly 40 miles Southwest of Topeka, Kansas.  This location has great skies and I have installed a permanent pier and a large GEM that has a great view to the South.  The mount is protected by a roll-off shed.  Attached is a milky way photo showing the great southern view.  Also attached is a photo of the permanent pier and mount (I have sold that particular telescope, so it is not included).

Also attached are (1) a map showing the location of the house on the lake, and in relationtion to the airport; and (2) a Dark Site Finder map showing our location as being in the first blue section.  There are very few places East of this in the Continental US with darker skies.
The house is nothing special, but we love it.  It is a 3 bedroom, 2 bath, mobile home that has a permanent roof structure built on it and a large covered deck off the back.  The deck overlooks the lake.  We have a small dock on the lake.  We have caught many catfish off that dock.  I have attached a photo of the lake view taken from our dock.
The GEM is large and can manage up to a 100 lb telescope.  It has encoders and is a push-to type.  Although I have sold the scope in that photo, I have a C14 that I might be persuaded to sell.
The property is about half way between Wichita and Kansas City (about a 90 minute drive from either).  Across the street  there is a grass-strip airport, so if you have a small plane you could fly out and walk to our cabin!  Great skies and the best lake in Kansas – very clear water.   The lake is not huge, but it has over 300 houses on it and is large enough to water ski.  Council Grove is a lovely little town.
We are asking for $118,000, fully furnished.  
Thanks!

Telescopes, Astronomy, Binoculars