From the
ATWB Customer Gallery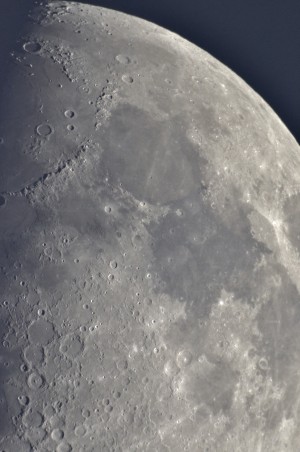 Moon Snapshot with Starmaster 11 "Shorty"
Dark Sky Observatory and Home for Sale
The observatory and home are located on 3.1 acres in Star's End Estates, an astronomy enclave in Mayhill, New Mexico. The observatory is located approximately 14 miles east of Cloudcroft New Mexico on US Highway 82, in the Sacramento Mountains at approximately 7,188 feet MSL or 2190.902 meters.
The observatory was originally built by renowned astrophotographer Russell Crowman in 2005. I purchased the observatory and land from Mr. Crowman in 2011. Since that time, I have made substantial improvements and upgrades to the observatory and observatory equipment.
Home and Garage:
In 2012 construction began on a ranch style home below and about 200 feet from the observatory. The home has approximately 1,675 square feet of heated and cooled living space, and the garage concrete slab is 576 square feet.
The house has a large walk-in basement with a 2,600-gallon water storage tank and mechanical room. The kitchen has a reverse osmosis system which feeds a tap on the sink and the icemaker in the refrigerator. The home and garage are connected to a Generac Guardian 20kW whole-home back-up generator to supply power during an electrical outage.
The view from the large deck on the back of the home has a wonderful view of the surrounding Sacramento mountains. The renowned New Mexico Skies Remote Observatories is located directly across the street from Star's End Estates. This is a dark-sky site.
The furniture in the home is included in the sale price.


Observatory and Equipment:
Astrohaven 12-foot fiberglass clamshell dome
Astrometric Instruments, Inc. DomePro 2-c controller and Maestro software with tilt sensors
Pier and observatory cooling fans designed to remove heat from pier and observatory
Ainitak Astrosystems Flatman XL 24" Electroluminescent Panel
Diffraction Limited Boltwood Cloud Sensor II connected to DomePro 2 controller for closing dome during inclement weather
SBIG 340C Allsky Camera
Toshiba Network Camera Model IK-WP41A (Exterior Camera)
Davis Vantage Pro2 cabled weather station w/Vantage Pro2 Console and WeatherLink IP Software
(2) Digital Loggers Power Controller 5 - Switched Rack PDU's
ICRON 4-Port cat 5/USB Extender
Takahashi Collimating Scope to collimate Ritchey-Chretien optics
(2) Amcrest IP2M-841 ProHD 1080P (1920TVL) WiFi IP Security Cameras (inside observatory)
APC Uninterruptible Power Supply - Model RBC43, #43 – UPS power for DomePro 2-c controller
CO2 snow gun and tank for cleaning optics
Telescope:
RCOS 20-inch (half-meter) f/8 Ritchey-Chretien Carbon-Truss Telescope with optics by Paul Jones.
Telescope Mount:
Software Bisque Paramount MEII Robotic Equatorial Mount - Total Instrument Capacity 240 lb./Total Weight Capacity 480 lb.
Camera and Optical Train:
SBIG STX-16803 Monochrome CCD
SBIG AO-X
SBIG FW7-STX Filter Wheel
SBIG Self-Guiding Cover for STX Filter Wheels
Astrodon LRGB E Series Filter Set - Gen II - 50mm Square Unmounted
Astrodon 3nm SII Narrowband Filter - 50mm Square Unmounted
Astrodon 3nm OIII Narrowband Filter - 50mm Square Unmounted
Astrodon 3nm H-Alpha Narrowband Filter - 50mm Square Unmounted
RCOS Precision Instrument Rotator (PIR)
RCOS 70mm Series Flat Field/Corrector installed in PIR
RCOS Telescope Interface Module (TIM) - designed to control and operate the Secondary Mirror Focuser, Precision Instrument Rotator, Robotic Primary Mirror Cover, and provide basic temperature control via 2 separate heaters and a set of fans.
Software:
The SkyX Pro w/camera and T-Point add-on's
MaximDL 6
FocusMax V4
Maestro4
Clarity II
Cloud Sensor Graph II
Davis WeatherLink 6.0.5
SBIG Allsky 340-C
TIM Controller.exe

Telescopes, Astronomy, Binoculars