From the
ATWB Customer Gallery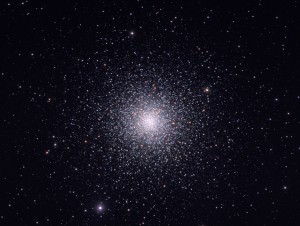 M3 Globular Cluster
Dark Sky Panels / PVC & Cloth Observatory Walls
Price Drop $110 for the set
Dark Sky Panels / PVC & Cloth Observatory Walls
From the original Dark Sky, Inc.

10x: Main Panels, 62.5" tall x 47" wide
10x: Extension Risers, 21.5" tall x 47" wide
25x: Irwin Quick Grip clamps
1x: Doorway Support, 42" long
Includes Permanent Install clamps and hardware

Great for shielding wind and light, from optics and astronomers. I now have a roll-off roof obs for imaging, and don't use these any more. These panels were terrific for some nice stable imaging - google pbase astronomy Kelvin Phoon to see the setup.

PVC frames are in very good shape. Thick OEM cloth is attached with OEM self-tapping screws, and has faded to a medium gray. No holes or tears, no light leaks. The quick grip clamps are weathered but operating smoothly. Fantastic for fast build and tear-down at star parties. I put it up and took these pictures in minutes!

Local only, as these are fully assembled and too big to ship. I can meet you anywhere in San Diego metro, and as far north as San Clementi and Fallbrook. Bring a pickup or large SUV.

Telescopes, Astronomy, Binoculars