From the
ATWB Customer Gallery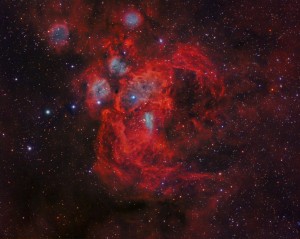 NGC 6357 Lobster nebula
Coronado pre-Meade BF30 Ha blocking filter
Coronado pre-Meade BF30 Ha blocking filter €140 

€10 shipping to all Europe, €20 shipping to rest of the world.

Price includes paypal fee.

This is a pre-Meade Coronado BF30 from my Coronado ASM-40 Ha filter.

This BF30 has three handicaps, therefore the very low price:

1. The glass has a few dents in the edge, yellow side only. It can be seen in the photos, zoom in please. This happened when I removed the glass for an experiment. These affect less than 1mm of the outer edge, and have no effect on real use.

2. There is no 2" nose piece. It has the same thread as the regular old BF30, but without nose. The filter body just threads to the ASM-40.

3. The filter is dimmer than the the regular BF30 (it was meant for large aperture telescopes, 150mm)
The filter has 15 years, have been sitting unused for the last 10 years, and is absolutely clean of rust, no rust on these pre-Meade blocking filters.

The filter contains tilt tuning wheel, for optimizing performance.

I am selling this filter to someone looking for a cheap large blocking filter to use with a custom system, for example 40mm or 50mm Ha filters at the back (eyepiece) end of a large refractor, for example 150mm. The long focal length appreciates a large blocking filter, and the large aperture does not mind a dimmer filter.

This is not for someone looking for a plug and play filter for the standard HA filters or telescopes, as it requires custom adaptation to your system.

Telescopes, Astronomy, Binoculars