From the
ATWB Customer Gallery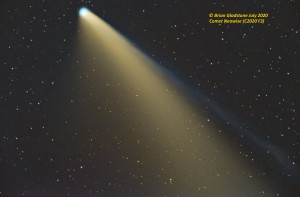 Comet Neowise c/2020 F3
Kowa TSN-4 Fluorite 77mm Scope w/ 20x Wide EP & Camera Adptr
Vintage (1980s) Kowa TSN-4 Prominar Fluorite 77mm straight spotting scope with a Kowa 20x Wide eyepiece. Eyepiece is new-old-stock and comes with the original box. Also included is the Kowa camera adapter for this scope, providing 800mm at f10.4 via T-adapter.
Optics are pristine with no fungus, scratches or other damage. Scope is well-used, with a ding on the front and a nice patina to the painted finish - see photos. Focuser is buttery smooth with the perfect amount of resistance. The scope has a nice tripod mount than may be rotated by loosening a set-screw.
This is a real fluorite objective, providing exceptionally crisp and contrasty views. These Kowa Prominar scopes are considered reference spotters and are renowned for fine optical performance. Here's your chance to own a large fluorite spotter for a bargain price (comparable models are over $2000).
REDUCED AGAIN
 $575 including CONUS shipping via insured Fedex Ground and PP fees.

Telescopes, Astronomy, Binoculars