From the
ATWB Customer Gallery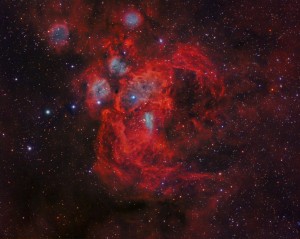 NGC 6357 Lobster nebula
Officina Stellare Pro RC 400 OTA
405mm Primary, f/8.5, 3450mm FL with Flattener
60mm Corrected and Illuminated Field
Zero Expansion Astrosital Mirror Set
2 Element Field Flattener
220mm Backfocus relative to the scope's backplate
Carbon Fiber Truss OTA System
Factory Upgraded to Pro Configuration in 2013
Primary/Secondary Mirror Dew Heaters

ATC 02 Advanced Telescope Controller for:
***Primary Mirror Cooling Fan Speed Control
***Primary/Secondary Mirror Temperature Control
***Secondary Mirror Axial Position Control
***Ambient Temperature, Humidity, Dew Point Monitor

Airborne Transport Case (Lockable Hard Case)

Original Owner. I am selling this scope because my site seeing is not consistently  good enough to support this instrument.

The scope is packed and available for immediate delivery.
The price of a new OS RC400 Pro is in excess of $33,000.

Seller will personnally deliver scope to a mutually  acceptable location within a 1500 mile radius east of Sacramento, Ca.

Telescopes, Astronomy, Binoculars