From the
ATWB Customer Gallery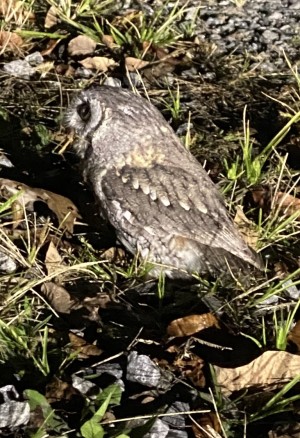 Juvenile Barred Owl feasts on a grasshopper
Officina Stellare RILA 325/1850
Astrograph with a 350 mm primary (325 mm useful aperture), 173 mm secondary, corrector group ø84 mm with 2 lenses before focusing.
Riccardi-Harmer-Wynne configuration.
Focal 1850 mm. closed aluminum tube, carbon hood.
Correct field diam. 52 mm.

Riccardi optics, Officina Stellare intubation.
Losmandy maxi 4" lower slide + 3" upper Losmandy slide.
Weight 40 kg
Flat field generator complete with power supply.
Baader Titanium focuser with Robofocus complete with control unit
ATC remote control: fan speed, temperature and primary and secondary heating.
Interfotometric certificate.
Instrument made on request for main use in astrometry.
A comparable commercial instrument is the RiFast 300.
Fully operational.
Purchased in 2010.
Euro 10,000
The telescope is located in Italy, near Turin, the price is in Euros. Thanks for your attention and sorry for my poor English.

Telescopes, Astronomy, Binoculars