From the
ATWB Customer Gallery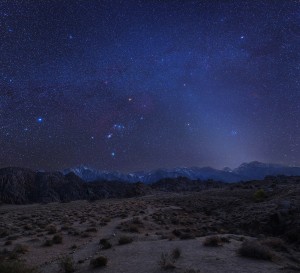 Orion setting over Mount Whitney
Celestron C90 35mm T-adapter w box 1999
Have here a 1999 Celestron (Synta Technology Corp of Taiwan) C90 35mm T-adapter with its original box. The box is in excellent condition and the t-adapter is in very near mint condition with perfect threads and unbroken painted characters.

**Though box is not in the photos, this will come with the box**

This is made of solid anodized aluminum and will work with ANY 35mm T-ring.

It will thread to ALL MODELS of C90, both USA and China. It will fit to ANY Meade 97-series Maksutov. It will also thread onto most Orion and Pro Optic 500 Maks (90mm f/5.6).

This will thread to the Nexstar 4 and C130 maks.
This will also thread to the 1976-1980 orange C5s; the ones that came with .965" visual backs.

If you want to attach a 35mm film or current digital camera to your C90 or other above mentioned telescope, you need this adapter and your camera's applicable T-ring. Below is how you stage your C90 to use your camera:

C90 + T-adapter + T-ring + 35mm camera

Price INCLUDES shipping and Paypal. Other nations will be more.

Telescopes, Astronomy, Binoculars