From the
ATWB Customer Gallery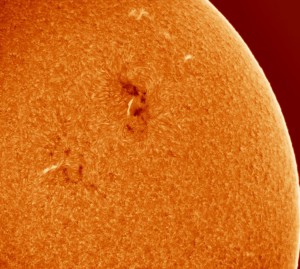 Solar Plage 11/15/2020 from Lake Ahern Observatory
*price drop* MAK RUMAK STF MIRAGE 8" (203mm)
MAKSUTOV RUMAK STF MIRAGE 8 "
Beautiful and hard to find Maksutov STF Mirage 8 "f10
Exceptional optical quality like all Russian specimens of this company (usually between 1/6 and 1/10 of lambda),
ideal for observation of the Moon, planets and double stars at the instrumental limit!
Focus on the primary mirror, shift-free even at high magnifications
2 "visual back with 1.25" reduction, standard SCT connection compatible with many accessories
Original carrying bag, vixen bar
Very good condition (two little abrasions on the tube), perfect optics.
On my test it shows perfect circular rings.
You can collimate on the primary and secondary mirror.
The pictures are actuallySpecifications:
Clear Aperture ----203mm ( 8" )
Focal Length ----2030mm (80" )
Tube Diameter ----235mm (9.25" )
Tube Length ----533mm (21" ) Plus Dew Shield 730mm (28.75")
Tube Weight ----10kg (22lb)
Back Focus ----90mm (3.5" ) To 300mm (12" )
Diameter Of Secondary Obstruction ----62mm (2.4" ) 30.5%
Meniscus ----K8 Glass Less Than 1% Reflection Broadband Multicoated
Mirror ----LK5 Aluminized SiO2 Protected
Tube ----Aluminum White Textured.
Focusing ----Moving Mirror Zero Image Shift
Camera Holder
Padded Carrying Case.
> No finder < 
on request I can find one
2650USD (Shipping EMS-Globe worldwide and Paypal all comprensive)

negotiable

Telescopes, Astronomy, Binoculars