From the
ATWB Customer Gallery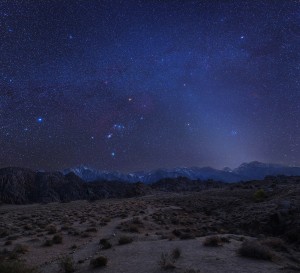 Orion setting over Mount Whitney
Meade Classic 12-Inch LX-200 EMC Schmidt-Cassegrain Computerized Telescope
I am selling my Meade 12-inch LX200 EMC Schmidt-Cassegrain telescope.  Here are the specifications:

Meade Classic 12-inch LX200 Schmidt-Cassegrain f/10
EMC super multi-coatings
Fork Mount
Drive base with star drive
Computerized database with 64,340 objects
Adjustable Equatorial Super Wedge
Full RA and DEC slewing capacity
Giant Field Tripod
Hand-held electronic keypad
2 inch star diagonal with 1.25-inch adapter
Three eyepieces
Color Filters
8x50 viewfinder
110 VAC to 18 VDC power supply with 12-volt power cables.  Packing box with original foam and operating manual.
This instrument is in excellent condition, well-collimated, with just a few scratches on the tripod and equatorial wedge, and perfectly suited to serious amateur observation.  I have personally used it to see the M13 Globular Cluster, the Andromeda Galaxy M31, the Ring Nebula M57, the Orion Nebula M42, Jupiter, and Saturn.

I live in the Portland, Oregon Metro Area.

Telescopes, Astronomy, Binoculars