From the
ATWB Customer Gallery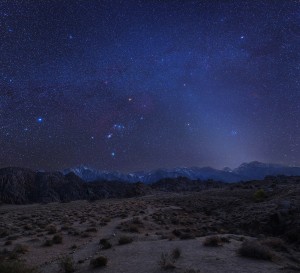 Orion setting over Mount Whitney
(price reduced) Orion Apex 127mm Mak-Cas w/dewshield
For sale is an excellent condition Orion Apex 127mm Maksutov-Cassegrain telescope. This scope has been well cared for and only has minor marks on the dovetail base. Included are all acessories, including:
Orion 127mm f/12.1 Maksutov-Cassegrain Telescope optical tube assembly
25mm Orion Sirius Plossl telescope eyepiece (1.25")
45º correct-image diagonal
Orion 6x26 correct-image finder scope
Finder scope bracket with O-ring
Dust cap
Also included is an Astrozap dew shield. It will ship in the included soft carry case, but please note the Orion case is of poor construction and three zippers are broken. However, the case does provide good protection. 
I'm selling because I was gifted a larger Celestron 8SE and no longer need two catadioptrics sitting around the house.
Payment is Paypal, buyer pays shipping. Shipping weight is ~12 lbs in box measuring 14.5" x 12.5" x 19".

Telescopes, Astronomy, Binoculars