From the
ATWB Customer Gallery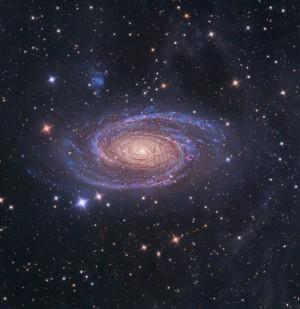 M81 LRGB + Ha
TEC 7" Mak for Sale - Excellent Condition -- SOLD
TEC 7" Mak for Sale - Excellent Condition
I am selling my wonderful TEC 7" Mak. It is one of only 12 made. It's a 180mm f/15 Maksutov with quartz primary and a 27% CO. It has the typical high quality fit and finish that TEC is known for. There is no focus shift and no mirror flop. You can read about the performance this very scope by Google-searching "TEC 7 Mak First Light on CN." 
This Mak was made in 2013, but it has seen very little use. The first owner sold it shortly after buying it because of jet stream and thermal related issues. This scope now has no thermal issues and does not dew up even without a dew heater. (See below). I solved the thermal issues Maks are known for with an insulation jacket. (The issues related to the turbulence of the jet stream are beyond my control.) 
The second owner/collector never used the scope. I am the third owner, and although it is one of my "dream" scopes, life circumstances limited my use of this fine instrument. I've had it under the stars fewer than a dozen times. The Mak has spent almost all of its time in a dry air-conditioned environment and has a desiccant cap to boot. There is dust on the meniscus. It has never been cleaned and still perfroms beautifully.
No adhesives were used to attatch the insulation jacket to the OTA. The jacket (pictured on the scope) is held securely in place by friction and by the Losmandy D-plate. The jacket can be easily removed; although why anyone would want to remove the jacket is beyond me. You can see how I constructed the jacket by searching for "Insulating my SW 180 Mak on CN." Then scroll down to post #54. 
The Mak comes with: 
a Losmandy style D-plate
a set of semi rings (to attatch the D-plate to the OTA) 
a Lightware 36" heavily padded soft case.
a dew shield
2 accessory bases (one is a narrow A-P style and one is a standard width base)
a 2" Baader ClickLock visual back (the original VB is also included)
a custom made knob on the micrometer focuser that enhances fine focusing
a 50mm Stellarvue illuminated right angle finder scope
an internal fan (which I never used and is not needed)
a Farpoint desiccant cap
From the notice sent out by TEC regarding the last TEC 7" Mak:
Specs :
Diam. 180mm (7")
Focal ratio F/15
F=2700mm
CO ~27%
Quartz primary and Sitall secondary
Focusing by moving primary via Mitutoyo micrometer
Two internal fans for cooling
Length w/o dew shield 22", with DS 29"
OTA dia. ~8.25"
OTA weight with semi-rings and 12" plate attached ~15lb
Price for OTA is $3950
12" plate is $90
Semirings for  the plate - $70.
NOTE:
1) the first 4 photos show the TEC 7" Mak without the insulation Jacket. The next 4 show the Mak with the jacket.
2) Please add 3% to cover PayPal fees, or use FF, or pay with USPS money orders. I will accept a check from those with good Astromart ratings, but will not ship until after the check clears.
3) Shipping charges are negotiable. -- Pick up in the Houston area is preferred.

Thanks for looking.

Telescopes, Astronomy, Binoculars