From the
ATWB Customer Gallery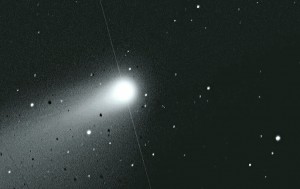 Comet Neowise with satellite pass.
AG Optical iDK 17 inch System (sale pending to Bob)
I am selling my AG Optical Systems .4 meter (17 inch) F6.7 Imaging Dall Kirkham Telescope. The telescope is an observatory-class imaging instrument featuring a 70mm flat field imaging circle free from coma, astigmatism, and field curvature. The AG Optical Systems 17″ iDK F6.7 optical system provides exceptional thermal stability. 
AG Optical Systems iDK series carbon fiber truss optical tube assemblies make extensive use of carbon fiber composite materials, CNC-machined components, and precision collimation adjustments to provide a rigid and thermally stable platform for the low expansion optics. Three cooling fans speed the cooling of the primary mirror while primary and secondary mirror heaters can be automatically controlled by the optional Thermal Control System (TCS).  There are also three side fans to ensure a stable thermal layer across the mirror surface.
Additional accessories include: 
1. Gen II AGO thermal control system: TCS controller, fans, primary and secondary heaters, software can be downloaded
2. AGO 17" astrograph shroud 
3. Optec TCF-3Si focuser 
4. Piggyback dovetail plate for iDK17 
5. iDK17 wood crate 
The optical tube is in excellent condition - was housed in observatory. The optics are clean (see attached images) and provide excellent images.
I have used this AG iDK17 primarily for CCD imaging within my Observatory for about 5 years. I have included some images (others can be provided on request), there are better ones on the web from others who are better imagers, pictures were taken with a FLI PL11000 CCD camera. I am selling to purchased a new telescope, so this beauty has to go to a new home. 
Note: There is NO diagonal, eyepieces. New this OTA sells for over $24,000 with all the accessories - with a long delivery time. 
Asking $14,500.00 or BO for the AG Optical iDK17 and above items. USA Only Sales - Buyer will have to pay the shipping cost via ground truck (I have the original iDK17 wooden crate and packing foam). The scope can be shipped (USA Only) via ground truck or you can pickup Northern, VA. 
Please see my astromart reviews - THIS IS A HIGH PERFORMER iDK17 - collimates well with excellent performance. 
Note Buyer pays Paypal fees (3%) 
Thanks for Looking 
Jason

Telescopes, Astronomy, Binoculars