From the
ATWB Customer Gallery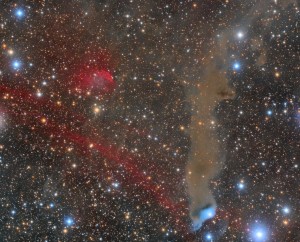 VDB 152 HaLRGB
2021 Obsession 18" f/4.2 UC **Pending to BH**
Life presents some amazing twists and turns. I have been offered a turnkey astro-imaging system that has been on my bucket list which necessitates the sale of an almost brand-new 18" f/4.2 Ostahowski/Obsession UC telscope that has been under the stars a total of x5. The scope with the accessories and shipping would be $10.1k and probably a long wait for an Ostahowski, incredible, fused quartz primary mirror suspended by an Obsession cable sling. 

The telescope is equipped with: the latest Argo Navis DCT with 32k encoders; FeatherTouch 2"-1.25 dual speed focuser; Telrad finder; Stellarvue 9x50 correct image visual finder; 4 piece counterweight system; wheelbarrow handles; heated secondary mirror; primary mirror rear fan; primary and UTA light shields;  Obsession shroud and polyurthane treated truss pole storage tube. The scope delivered would cost approximately $10,100.00 shipped (for pickup only in Northwest Central Florida).

The Obsession UC is a truly amazing telescope that can fit in most compact cars and the weight of the scope via the wheelbarrow handles is only about 10 pounds. The scope easily fits through conventional doors. The images through the scope are nothing short of amazing which would be expected from such a superb optician as Terry Ostahowski who not only figures (see interferometer specs that are included) the mirrors but puts some of the finest coatings available on the primary mirror that he figures.

The scope is only for pickup near Crystal River, Florida and requires the buyer to have cash in hand. For a potential request, willing to drive halfway and up to 200 miles from my home for a handoff. I live only 1.5 hours from either Tampa or Orlando International airports. Thanks for looking.

Telescopes, Astronomy, Binoculars