From the
ATWB Customer Gallery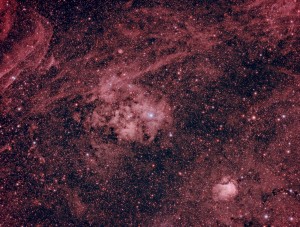 Sh2-115 Nebula
24" PEGASUS MIRROR WITH 4" SECONDARY
A 24inch mirror done by master optician none other than John Hall of Pegasus Optics.
24" f 4.5, 108 inch focal length..
Secondary Has 4" enduro-bright coatings. Holder is astro systems design.
Made by PEGASUS OPTICS, by world known Optician John Hall, in 97'-98'.. It is 2" thick and has silicon oxide coating on it. Ask me for specifications. Have papers on it, that John Hall always offer with his mirrors.
This mirror is one of very few ever made by John Hall of this size. This mirror is no exception to quality and sharpness at the eyepiece.
Prefer pick up if you are interested. But will travel a short distance if need be. Last resort, maybe ship it, BUT only in continental USA.
Be happy to show you the mirrors if you happen to be in Arizona.
Mirror is in MINT CONDITION.. like new.. as well as secondary mirror..
The main reason selling is due to health issues. More info and pictures upon request..
asking. Now only. $6750 for optics-(primary Mirror & Secondary mirror with holder).
. .Have mirror cell/and Base for excellent price of $200 extra --but needs to be local pickup on this item due to large size.

Telescopes, Astronomy, Binoculars