From the
ATWB Customer Gallery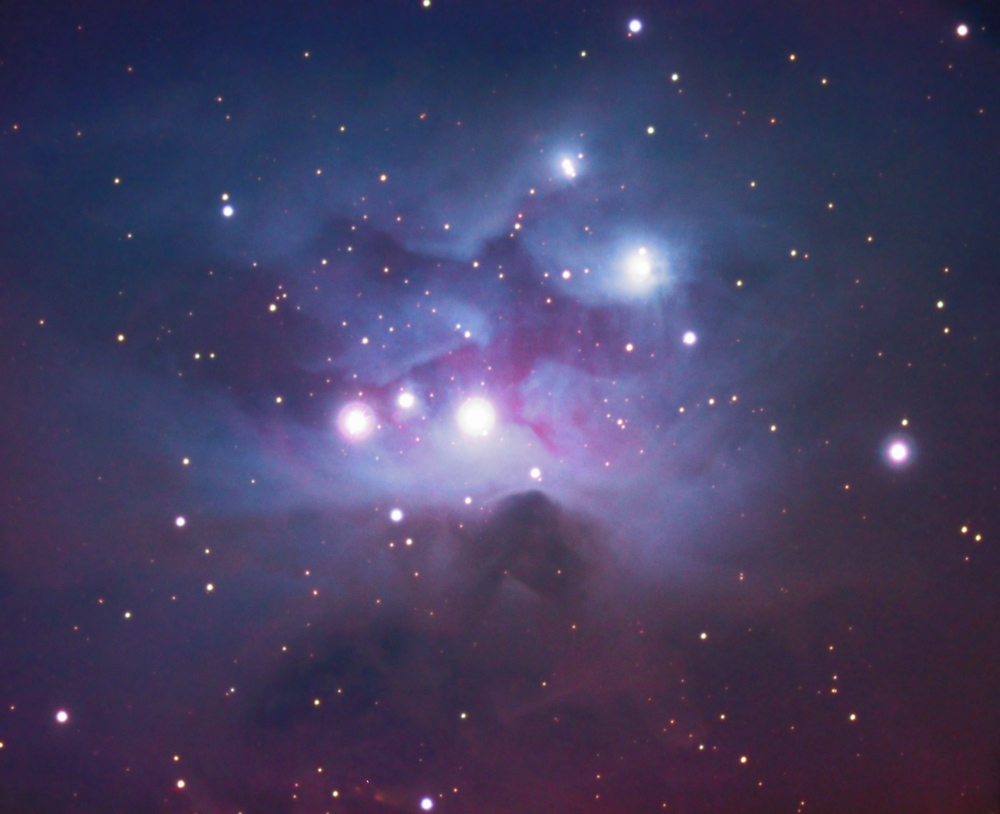 NGC1977 Running Man Nebula
A Michael Lockwood Original...10" f/5.5 Like NO Other!
***Sale Pending***

I purchased this 10" f/5.5 ultralight dob directly from Mike.  It is a work of form and beauty and ingeniously built! There are so many unique features on this telescope it will be difficult to describe them all.  I know of no other scope that has been entirely manufactured by Mike, including the structure.

The Optics: 

Lockwood Custom Optics.  Both the primary and secondary mirrors were recently (January 2020) sent off to Terry Ostahowski in California for a strip and recoating.  I contacted Mike about who to have do this work and that was one of his top choices.  Terry is an awesome person to do business with, btw!  The primary mirror is etched and serial numbered by Mike.

The secondary has an AstroSystems dew heater installed, but not currently wired to anything.  That is easy enough to accomplish by attaching a 9V battery connector to the wires and using a small patch of Velcro to attach to a spider arm.

The mirror box has two (2) 12VDC primary mirror boundary layer fans installed, along with a forward/ reverse switch and cable to attach to a cigaretter lighter plug.

When I received the scope, it had a piano wire secondary holder.  I had issues with collimation (my ignorance, not Mike's), so I replaced it with an AstroSystems spider.  I still have the piano wire secondary assembly and it would be **very** easy to convert it back to original should you so desire.

The Structure:

Cabinet grade 1/2" birch plywood, stained two-toned for a beautiful effect.  The entire structure is beautifully finished and sealed.  The altitude bearings are attached with knobs and easy to remove.  The altitude encoder bracket, likewise, is easy to remove.  The secondary cage attaches solidly to the mirror box via the same fasteners that hold the truss tubes when not in use.   The tailgate has a custom rigid cover that attaches easily to help keep dirt out, but primarily designed to keep stray light out.   All hardware is stainless steel for years of maintenance-free use.

This thing is COMPACT: Approximately 14" x 14" mirror box and 16" x 16" rocker box.

The altitude bearings are lined with aluminum strips that ride on virgin teflon blocks for an ultra-smooth motion.

The Secondary Cage:

Ultralight, with baffle and flat black on the inside.  Moonlite tri-knob focuser (compression ring style) with a three position filter slide and 1.25" to 2.00" compression ring adapter.  Mount for a Rigel finder (included).  It attaches to the truss tube assembly via Mike's custom-made wood mating blocks and two alignment pegs.  Buckle hardware is easy and secure to use.

The Truss Tubes: 

Cleverly assembled as one easy-to-use six pole unit unit....pull out to spread them apart, push together to make them compact for travel and storage. Anodized aluminum, satin finish.  They solidly mate to the secondary cage and rocker box using bale buckles and two alignment pins (dowels) at each attachment point.  I will include an Orion padded case to hold the truss tube assembly and loose parts in the sale.

Electrical Stuff:

Two (2) 10K US Digital encoders
Two (2) boundary layer fans for the primary mirror
One (1) cable to connect the fan assemblies to power via an RCA jack on the rocker box next to a switch to turn the fans on/ off and switch directions
One (1) AstroSystems secondary heater, installed but not wired
Rigel finder, external battery pack, pulser unit and rubber grommet adjustment knobs for easy adjustment

What Is NOT Included:

-  The table that the assembled scope is sitting on you see in the photos
-  Digital Setting Circle computer
-  Battery power source for the fans
-  Light shroud

Conclusion:

This scope is very light and easy to assemble.  The design and engineering that went into this dob are second to none.  Be set up and ready to observer in minutes!  Own a unique one-of-a-kind scope.  I am thinning the herd, so to speak and simply need to pare down on equipment.  This scope doesn't see enough starlight!

Due to the nature of this telescope, retrofitting any type of drive system onto it would be extremely challenging and difficult.

I would strongly prefer a local pickup.  I live in Alton, IL just across the Mighty Mississippi from St. Louis, MO.  I am a 5 hour drive from Chicago, Kansas City, Indianapolis, Louisville, Springfield MO and Nashville.  I would be willing to drive up to 2.5 hours for the cost of gas to meet with the new owner upon pre-payment.  Buyer pays PayPal fees, if used. 

I would agree to ship it CONUS at purchaser's cost.  It would entail about 6 boxes to safely package it. If shipped, you would be provided with an estimated cost for materials and shipment.  If the amount I quote is over the actual a refund of the difference would be made.  If the amount is under my quote I will absorb the difference.  Please, no low ball offers or trades.  I have more into this scope than my asking price.  Thank you for looking!  Feel free to ask questions.

Telescopes, Astronomy, Binoculars