From the
ATWB Customer Gallery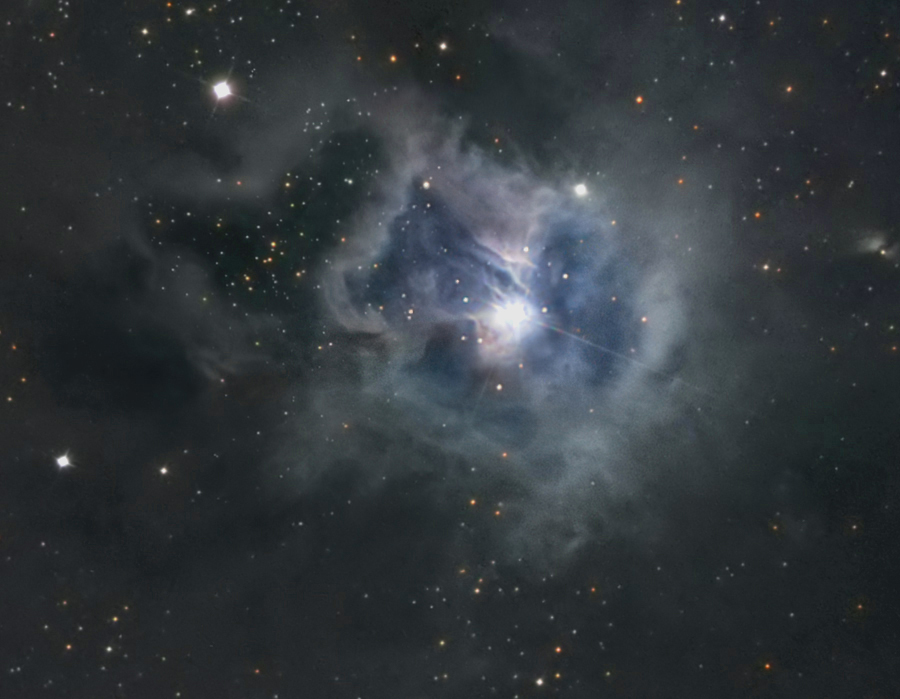 Iris Nebula
Must go!!! Custom 8 inch F/7 DOB w/ Feathertouch, DSC Encoders, Flocked & Powdercoated Tube
Must go!!  I have to make room for my 16" Dob. Extra $50 off if you pick up before a Friday!!!

I purchased this telescope a few months ago and had it shipped to Virginia for an additional $200.  My $1,150 sale price reflects a small discount off my total cost.
I already have several excellent scopes, so this scope was meant for a friend who was looking for something simple for home use.  As luck would have it, in the interim he was able to acquire his dream scope, a TEC 140, for a crazy good price locally, but he was able to test this under the stars extensively and was very impressed, especially for the cost.  I have used it as well as was similarly impressed with the performance.  We believe it's probably worth closer to $2,000  He also has an AP 130, a Starmaster, and  New Moon dob so he knows good optics.

I will also throw in the wheeled cart that you see in the picture.  I had made this myself for another project. 
Pickup only!  Too much of a hassle to ship. 

Below is the original ad 458550.  Please see that for additional pictures  
I am beginning to pare down some of my favorite items. I'm 57 yrs old, got 2 kids in college now, you know how it goes..........

So, first up is my gorgeous 8 inch F/7 Planetary DOB. The tube was professionally powdercoated and I have flocked the entire inner tube with scopestuff flocking paper. The mirror is purpoprted to be 1/17 wave and was done by a former member or associate of the Adler Planetarium in Chicago. I do not have any paperwork on it, but the beautiful images in it would suggest it is accurate. The secondary mirror (1/12) and spider are by astrosystems. I added a brand new feathertouch focuser less than a year ago, and the mount was custom made for me by Mark Wagner of Astrogoods. This mount  is BY FAR the most stable mount for any DOB  under 18 Inches that I have ever used. In fact my scope is still featured on the front page of his website. One of the custom mods I requested of mark were reinfroced side boards. I know that long focal length dobs can cause flexure in the side baords, but Mark's design is so good  that I cannot detect any side board flexure at all, even at high powers.

DSC encoders and hardware are included, but no computer. I will also include a Telrad. Both mirror coatings are in very good shape.

A DOB like this does not come up very often at all, and at 1100.00 you are getting the whole scope for the cost of the feather touch and mount alone.

Chair, computer, 2nd Counterweight and eyepieces shown in picture are not included

Shipping will most likley run 100-140.00 in the CONUS. 

I accept paypal ( add 3%) and Zelle Quick Pay.

Thanks for looking,

Telescopes, Astronomy, Binoculars