From the
ATWB Customer Gallery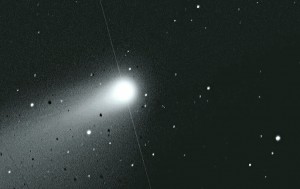 Comet Neowise with satellite pass.
Bresser 208mm f3.9 Newtonian!REDUCED!
This is a 208mm f3.9 Astro photography Newtonian. It's only been used 5 times and is in wonderful shape. It needs collimating but that is fairly easy considering it has no tool collimating knobs. It also has a very smooth 2in Crayford focuser. The only reason I'm selling it is because I'm getting a smaller more manageable scope, as it dose weight 25 pounds.It includes a soft case, dustcaps,vixin dovetale mounting plate and cradle rings for mounting and a focuser extinson tube for visual work.

Telescopes, Astronomy, Binoculars