From the
ATWB Customer Gallery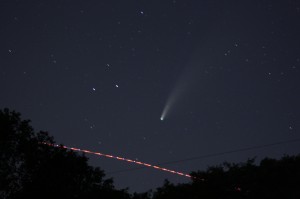 NEOWISE With Airplane 7/17/20
eVscope plus backpack
Hello, I have an eVscope by Unistellar plus dedicated backpack for the scope for sale. I've owned it since last fall. It was one of the original units delivered to beta testers. I've used it around 10 times. No performance issues with it. The attached DSO images were taken in Bortle 8-9 skies from my balcony with very challenging light pollution around me. As you can see from the images there were some discoloring to some parts since it was an initial beta unit. However, perfomance is great with no issues with either tracking or object discovery. 

This scope is extremely easy to use and you can view a dozen objects in a night.

Currently, Unistellar is asking $3000 for it with a waiting time until August 2020. I think a backpack is an extra $300. I'm asking $2100 plus shipping. Buyer is responsible for Paypal fees. I would like to sell this locally in the bay area and could drive a certain distance to deliver it.

Telescopes, Astronomy, Binoculars