From the
ATWB Customer Gallery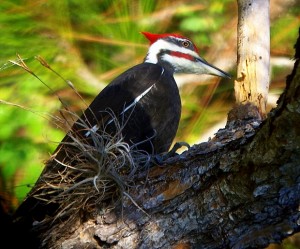 pileated woodpecker
JP Astrocraft Sweet 16
I am considering selling my JP Astrocraft Sweet 16 that I purchased approximately four years ago.  I believe I am the second owner, and my understanding is the original owner purchased it directly from John Pratte.  Please note that this price does
NOT
include the primary, which is a 16" f/4 Quartz Zambuto that I had made for this scope and which took one year to recieve.
Improvements I have made since owning the scope include:
- improved whiffle tree mirror support cell made by John Pratte (cost $375, included at no additional cost)
- Antares 1/30 wave secondary (cost approximately $325, included at no additional cost)
- New shroud from Astrosystems (cost $80, included at no additional cost)
- Telrad (included at no additional cost)
- Servocat wireless handpad (cost $300+; add $275 to price)
- Tracer LiPo 12V 22A battery pack (cost approximately $325, add $275 to price)
This scope is everything you've ever read about.  It is made so well that you literally just tip it on its wheels and roll it to your observing site -- no wheelbarrow handles required.  It originally came with an Argo Navis but I prefer the Nexus DSC so I worked with Serge to modify it for Nexus DSC operation.  The Nexus DSC is
NOT
included, but all wiring and encoders are.
It is a lifetime scope.  The only reason I am considering selling it is because I have commissioned an Ultra-lightweight, portable structure from Europe that will be easier for me to transport by myself.  I live in a townhome and simply don't have anywhere to store the Sweet 16 as well.
I would be happy to answer any questions for you and livestream a demo of the scope for serious buyers.  The scope has no known mechanical flaws and has worked beautifuly for me.  Because of its size, I am not able to ship it.
I am not sure of the age of the scope but I think it is an early version.  Please note that there is some delamination on the rocker box and typical signs of wear for a scope this age.

Telescopes, Astronomy, Binoculars