From the
ATWB Customer Gallery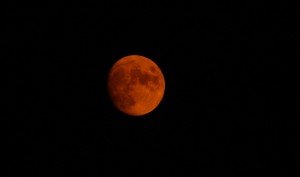 Disco Inferno
Old School Heavy Duty GEM w 12.5" OTA
Pictures don't do this justice! This is a 12" Schaefer Type Mount (Billet Fabbed) that I built more than 20 years ago and comes with a 12.5" f5 OTA. This system is for the serious observer with an eye to go bigger!

GEM Mount:
Built by Jim Hannum and myself in 1999. This mount doesn't know the OTA is even on it. I built these for 22"-24" Newtonians back in the day. Mount will support 225lb payload including another 200lbs of counterweight! The measly looking counterweight shaft is 2" Stainless. The RA shaft is 10".. no kidding. There is a 10" Kaydon Bearing behind the RA Gear.

Mount Comes with:
Analog Setting circles
Digital encoders for the CAT digital readout (included and working) for push to object finding
Counterweights as shown (about 55lbs)
Vista Drive Corrector with ST-4 hookups (AC and DC operated)
HD 8x24" Tripod (aluminum so its easy to move)
20" Permanent Pier (not pictured and for good reason..it weights 200lbs.

OTA:
Built by me back in the day. This is a 12"f5 Newtonian sporting Enterprise Optics Mirrors. Optics handpicked by Jon Pons when it was fabricated. Coatings are like new. The rotating rings are easy to move the OTA for focuser placement. The removable mirror cell allows transport of the Primary separate from the tube pinned for collimating accuracy. The tube paint is like glass with no imperfections.

OTA Comes with:
Full rotating rings (original Schaefer style)
Schaefer removable Mirror Cell
Parks fiberglass tube seamless
Feathertouch focuser 2" with draw tube
8x50 finder and telrad base
Case for Cell and Mirror
Waterproof Cover for telescope 

This is a Cadillac of GEMs and will out support most any mount. Optics are exceptional. Tracking is typical Byers with Periodic error under 3 arch seconds. Tangent Arm Dec allows for auto guiding. Just look at these pictures.. the paint is DuPont Imron (illegal in most states now) and is a durable as porcelain. This system was painted over 20 years ago!

The mount can be upgraded for GOTO operations if interested. It's expensive but I have converted dozens of Schaefer mounts with tangent drives. 

Shipping not possible so its either pickup or possible delivery (you pay the gas) within 500 miles of Reno Nv.
Questions always Free!
Paypal FF, Zelle, Check or cash upon pickup. Test drives welcome

Telescopes, Astronomy, Binoculars