From the
ATWB Customer Gallery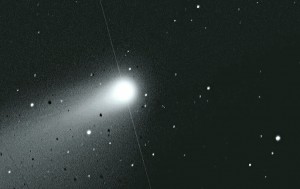 Comet Neowise with satellite pass.
ORION 8" Intelliscope With Moonlite Focuser
I am selling this scope after acquiring it from a friend's estate upon his death. 

$400 OBO - ORION 8" INTELLISCOPE WITH MOONLITE SINGLE STAGE FOCUSER, FINDER SCOPE, 10mm & 25mm eyepieces -- EXCELLENT WORKING CONDITION, HAS HAD WATERPROOFING APPLIED TO BASE, EBONY STAR APPLIED TO BASE ON BOTH ALT & AZ.

I have had this scope out with my 8 year old grandson and he loved it.  It was easy to get an alignment with, the mirror is actually very good and I was quite surprised.  The Moonlite focuser is great. 

Sold as is.
I would dearly love to sell all of this stuff within a 50 mile range of Chesapeake, VA.  If you want something shipped – it will be at 100% the buyer's expense.   THIS WOULD NOT BE A GOOD CANDIDATE TO SHIP so PLEASE LOCAL PICKUP or maybe an hour's drive.
PLEASE NO LOW-BALLS, I have set the prices darn cheap.
v/r
Chuck

Telescopes, Astronomy, Binoculars