From the
ATWB Customer Gallery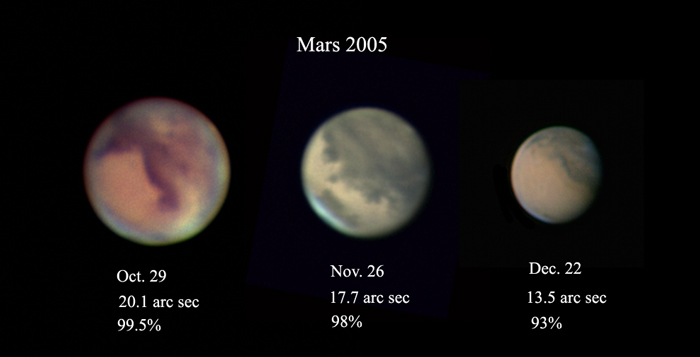 Mars_Oct-Dec_2005
Starmaster EL11 f5.47 Zambuto (Reduced)
Sold.....Thanks Tim

I am offering a Starmaster EL11 f/5.47 in excellent condition.
Starmaster EL dobson telescope
Carl Zambuto 11" f5.47 mirror w/ documents (SN: SM11-074)
Feathertouch focuser w/ brake and adjustable base
Astrosystems secondary holder
Protostar quartz secondary mirror w/ documents
2 sets of poles (1 set original and 1 set custom heavy wall)
2 finders ( 1 Rigel and 1 orion right angle)
Also Included:
Catseye Telecat and Autocollimator
Original secondary holder and mirror
Howe Glattor 1,25/2" laser and barlow attachment
SkyCommander system w/ encoders and manual
Custom tool tray.
The mirror is f5.47 which makes it easy to collimate and yet you can still stand flat footed while looking thru the eyepiece at zenith. The wise old guys of amateur astronomy say that a good scope gets out of the way and allows you to observe, and this scope does just that.
The reason for selling is I'm getting a bit too old and my back is not getting any better. So it is time to pass it along to someone that can appreciate the beauty and engineering that went into this scope by Rick Singmaster and Carl Zambuto.
$2400 Bank Check, Cash, Personal check only from long standing Astromarter. No shipping, pickup only, in Ellijay GA. In North GA mountains.

Telescopes, Astronomy, Binoculars