From the
ATWB Customer Gallery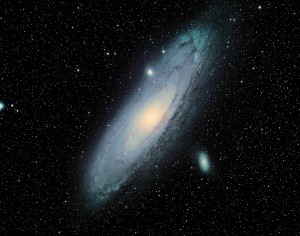 Andromeda Galaxy M31
2.5" Riser Blocks - FREE shipping!
Riser blocks that lift your entire telescope 2.5" (64.80mm nominal) above the dovetail bar, allowing for the full rotation of the focuser, which also prevents OAGs/filter wheels from pressing against the ground when the scope is not being used.

These are 3D printed solid in UV/weather resistant PETG filament - this is the third revision after going through 6 months of testing on my personal rig. Installation of the risers is done by putting the included M6 screws through the bottom of the dovetail and threading it into the tube rings. The included washers can be used to prevent the screws from going into the OTA if required.

See last image for the technical diagram and additional details. Those with 3D printers can purchase the CAD file for personal use with a 50% discount off the listed price.

---

Note: If your tube rings use a 1/4-20" thread, then you will need 3" long 1/4-20 bolts (not included) instead of M6x75. If this is the case then let me know so I can give a discount for you to purchase the required fasteners :)

Included:
Two 2.5" (64.80mm) riser blocks
Two M6x75mm screws (if you need more let me know!)
Four M6 washers (works with 1/4-20 as well)
---

E-transfer (Canadians) and PayPal are accepted.

Price includes free tracked shipping to the lower 48 states only. I will also ship anywhere else in the world, and pay for half the shipping costs (provide a postal/zipcode so I can give a quote).

Telescopes, Astronomy, Binoculars