From the
ATWB Customer Gallery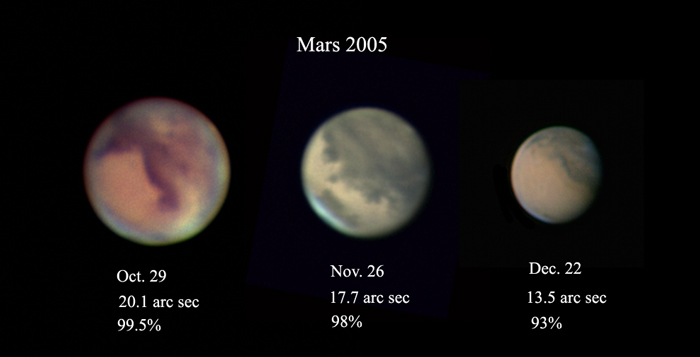 Mars_Oct-Dec_2005
Bausch And Lomb Discoverer 60mm Zoom FUN TO USE!
This was one of those telescopes that I always wanted SO BADLY as a teen. The local Kits Camera at the South Hill Mall (Puyallup, WA) would have one on display and they wanted a hefty $240+ for it back in 1992....Way too much for my meager lawn mowing income. So I never got to land one.

Finally, like 18 years later, I did land one at an eclectic yard sale. And for a good decade I have thoroughly enjoyed it. Now, I'm ready to let it go, though I know I will hunt down another one at some point.

In my experience with many mainstream zooming telescopes, this is the cream of the crop. It is ultra durable, it will handle misty and foggy conditions, if you have good arms like me and a steady stance, you can easily use it at full power without a tripod. There is zero plastic involved in construction, alignment is never a worrisome issue, and focusing is rapid, effortless, and it holds.
The images are very crisp and the entire power range provided is excellent for all observing applications given a 60mm performance window. It will beat many 60mm refractors out there.

The only, ONLY downside is there is violet secondary spectrum far out focus and heliodor fringe inside focus on all high brightness objects.

Aperture: 60mm
Optics: cemented doublet achromat multicoated. Eyepiece kellner design
Power range: 15x to 60x
Focus mechanism: grip and twist
Construction: milled aluminum and brass and glass
Length: 17.21-inches
Length when shield extended and eyepiece ring extended: 19.78-inches
Weight: 2 pounds 13 ounces

Cosmetics are great on the body with no major dings. The optics are great on the objective with some coatings swirls and great on the eyepiece with a few coating scratches and minor pits. Internal optics are dust and fungus free! Sliding shield, power selection, and focusing all work flawlessly. The photo adapter plate is missing, but can be replaced.

Happy to ship to anyone on Earth.

Telescopes, Astronomy, Binoculars