From the
ATWB Customer Gallery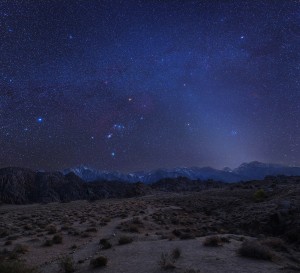 Orion setting over Mount Whitney
New Telescope Refractor ED 80mm, f/5.5 440mm, carbon tube
New Telescope Refractor ED 80mm, f/5.5 440mm, carbon tube

Short (32cm) carbon tube with retractable dew cap.
High light gathering power provides sharpness and contrast up to 6 ° field of view - also suitable for astrophotography. 2 '' / 1,25 '' Crayford focuser with 1:10 reduction for sensitive focusing. The doublet is with FPL51 glass. The range of telescope is 480nm to 656nm. Suitable for detailed and high-contrast observations of the moon, planets and bright deep sky objects.
Technical specifications:
Design: ED two-liners with air gap
Opening: 80mm
Focal length: 440mm
Opening ratio: f / 5.5
Resolution: 1.45 °
Limit size: 11.5mag
Tube length with inserted dew cap: 32cm
Weight: 2.1kg (carbon tube, optics, Crayford OAZ)

Telescopes, Astronomy, Binoculars