From the
ATWB Customer Gallery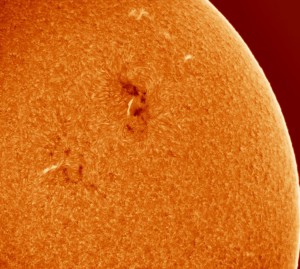 Solar Plage 11/15/2020 from Lake Ahern Observatory
REDUCED: Vintage Swift Model 839 Equatorial Mount
Rare vintage Swift (Takahashi) German Equatorial mount from their Model 839 60mm f/13.5 refractor. Needs to be restored but it's an exceptionally well-made little mount which would be perfect for someone looking for a small travel mount or someone who's looking for parts to restore their Swift refractor. The tube assembly for this is for sale in another ad. It looks like a couple of parts might be missing or broken off but everything looks like it should be easily repairable. Movement is very smooth but a little stiff like it needs fresh grease. I also have the legs for this but shipping has become so expensive I am not sure if it's worth it. If you want them and are willing to pay for shipping, I am more than happy to sell the original legs for this too. My recommendation is to find something local though. Just about any old wood legs from vintage Japanese scopes should work with this. One might need to add a few washers for legs with wider spacings or you can just make your own from material found at your local hardware store. This is in well-used condition.

I am only asking $45 plus $21 for shipping (Negotiable - OBO). I accept postal money orders, PayPal, and while I haven't tried them, I would consider some of the other online payment methods available like Zelle and Google Pay. I am also willing to meet if you want to inspect before purchase just so long as social distancing is practiced and the location isn't too far. If paying with PayPal, please add 3% to cover their fees. I am also open to other offers if you think my price is too high and will consider trades for other fun or interesting items.

Keep an eye on my ads as I am cleaning house to get things down to just what I am using the most and will be listing lots of other fun, rare, and unusual items.

Telescopes, Astronomy, Binoculars