From the
ATWB Customer Gallery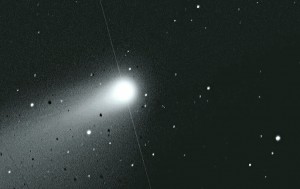 Comet Neowise with satellite pass.
Takahashi FS-128 w/ scopeguard case
Thanks for looking.

I am not the original owner.  Looking at correspondence from when I bought it I may be the second owner.

(This scope does not include a finder scope or finder scope shoe,  you can see in one of the images there are the two factory place holder screws.)

Tak FS-128 in good condition.

Has FT 8:1 or 10:1 fine focus mod (sorry I can't recall the exact ratio)
Has original front manhole cover, original CRR (rotator)

Includes stock rear focuser accys.
Includes original Tak clamshell mounting ring.
Includes rolling Scopeguard case.

Would prefer local pickup if possible or will split shipping.  For insurance purposes the packing will be done by the shipper for insurance reasons, and would be insured to replacement value, this packing at my expense.  Shipping...  if CONUS I will cap your expense at $100-  The packaged weight of the scope and case about 50 lbs and large,,,

When taking pictures I was reminded that to fit snugly in the Scopeguard case it's necessary to remove the 1.25" eyepiece adaptors.  I keep them in a zip loc in the case.

 I am using the Tak OTA paint on the blems, if intersted i can send images of the restoration.

A large scope and needs a decent mount, but imo for visual, no other doublet competes.

I am only selling this one as I have another.   I was going to binoscpe them but that plan has changed.

If using paypal i am absorbing the seller fee. 


Again, thanks for looking, and holiday Cheers!

Telescopes, Astronomy, Binoculars