Telescope Engineering Company APO 200 FL in Production
Production is ramping up on the APO 200FL from Telescope Engineering Company!
Reserve yours today at BuyTelescopes.com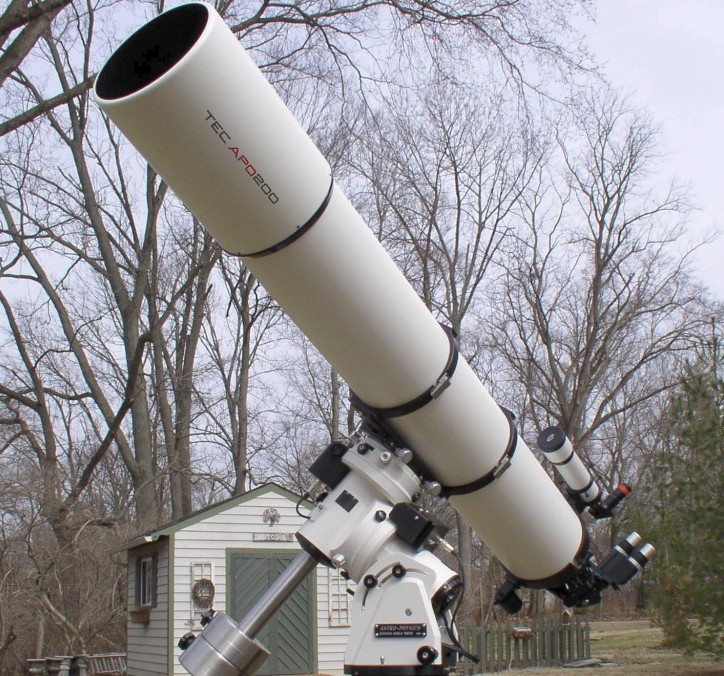 https://buytelescopes.com/telescope-engineering-tec-apo-200fl-refractor-176835
The APO 200 has a number of features that in a given combination are rarely found in one scope:
Precision apochromatic objective with modern coating that makes lenses almost invisible
Retractable baffle Light weight tube assembly
FeatherTouch 360° rotatable focuser with coarse and fine focusing
ollet type eyepice holder.
Line of accessories, including :
Precision tube rings with adjustable latches
Dovetail plate 12" long (same width and fit as Losmandy plates)
Finder bracket with new principle of finder adjustment
Includes optical tube assembly, front cover, plug and tube rings.
Deposit required: $8,000
| | |
| --- | --- |
| Clear Aperture | 8" / 200mm |
| Focal Length | 1600mm |
| Focal Ratio | 8 |
| Image Scale | 2.1 arc min/mm |
| Resolution (theoretical) | 0.46s arc sec |
| Focuser | Feather Touch 3545 |
| Eyepiece holder | 2" Collet type |
| Focusing range | 4.5" / 114 mm |
| One turn focus travel | Coarse 21.5mm / Fine 2.3mm |
| Back focus distance | 7" / 180mm |
| Focuser load capacity | 10 lb |
| Tube assembly diameter | 9.2" / 234 mm |
| Baffle diameter | 10" / 254mm |
| TA length (shortest | 58" / 1473mm |
| Balance point position | ~600mm from flange |
| OTA weight | 45lb / 20 kg |
| Lens coatings | Broad band anti-reflection coating (BBAR) |

Telescopes, Astronomy, Binoculars