From the
ATWB Customer Gallery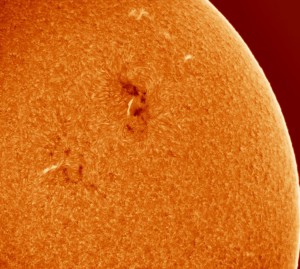 Solar Plage 11/15/2020 from Lake Ahern Observatory
Less than one year old RC8! Makes a great Christmas gift to yourself!
Less than a year old TPO RC8. Only slightly out of collimation. Willing to include collimation tools for extra price if needed. Comes with 20 mm spacer, 10mm spacer, plus I am throwing in a collimation ring (value $89) and a Precise Parts spacer at 12.7mm.  Also included are Bob's knobs for secondary mirror. Comes with 2" Dual speed Crayford focuser. I had replaced this with a 2" Primaluce Lab Esatto motorized focuser which I am also wiling to sell if desired.  Here are the official specs on the RC8 from OPT corp website .
In 1910, American optician and astronomer George Willis Ritchey and French astronomer Henri Chretien designed a specialized Cassegrain that would later become the telescope of choice for many observatories and professionals around the world. The Ritchey Chretien astrograph has many benefits that make this design appealing to anyone who is serious about astro-photography or imaging.

Here are a few of those benefits:

Good-bye Coma: An RC has virtually no coma (stars can look like little comets around the edges of the field with some telescopes.
No Chromatic Aberration: Because a Ritchey Chretien does not use lenses or corrector plates, the design does not suffer from chromatic aberrations (false color).
No Spherical Aberration: The use of hyperbolic mirrors, for both the primary and secondary mirror, removes the problem of spherical aberration from its optical system, giving you excellent focus.

Optical Highlights: The concave hyperbolic primary and convex hyperbolic secondary are made from low expansion quartz, and finished with a scratch-resistant highly reflective 99% dielectric coating for great contrast. 

Multiple Knife-Edge Baffle System: The computer designed and optimized baffle system in the TPO Ritchey Chretien works wonders at keeping stray light at bay. Inside the tube are ten light baffles, and the primary and secondary mirrors are baffled as well.

Carbon Fiber Optical Tube: Besides being modern and visually appealing, carbon fiber is light-weight, strong, and has a lower coefficient of expansion than aluminum. That means your OTA will be tough and not weigh more than it has to, but also that your focus won't tend to shift as temperatures change throughout the night.

2-inch Dual Speed Crayford Focuser: You'll love the 2-inch 1:10 Dual Speed Crayford focuser that comes standard on this RC. The dual knobs allow you choose the speed, which you focus. One turn of the larger knob equalsten turns of the smaller knob, so small adjustments are easy to do with this efficient focuser.


A Fixed Primary Eliminates Image Shift: The Ritchey Chretien has a primary mirror that is fixed in place, removing the possibility of image shift and also the job of collimating the primary.

Two Dovetails & Finderscope Base Included: A Losmandy-style dovetail is attached to the bottom of the OTA, and a Vixen-style dovetail rail is attached to the top for quick and easy attachment to a variety of mounts. While a finderscope is not included, the OTA comes standard with a finderscope base that will accept Vixen-style brackets (if you want an optical finder) or most red dot finders.

Long Back Focus: 250mm allows you to mount lots of imaging gear!

 

specifications

Aperture
203 mm (8")
Back Focus
250mm
Camera/Eyepiece Connection
2" nosepiece
Dawes Limit
0.57 arcseconds
Focal Length
1624 mm
Focal Ratio
f/8
Free Shipping
Yes
Glass Type
Quartz
Highest Magnification
406x
Limiting Magnitude
15.3
Manufacturer
TPO
Optical Design
Ritchey Chretien
Reflectivity
96%
Secondary Obstruction
85mm
Tube Diameter
230mm
Tube Length
559mm
Tube Weight
18.5 lbs
 

 

included items

Aperture: 8 inches.
Focal Ratio: f/8.
Focal Length: 1625mm.
Amazing Value Imaging Telescope.

Telescopes, Astronomy, Binoculars