From the
ATWB Customer Gallery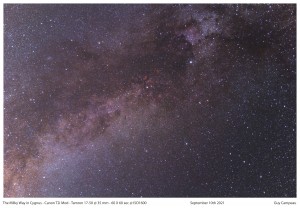 The M ilky Way in Cygnus
Mint condition AT10RC w/extras (Pending-Robert)
For sale is my lightly used AT10RC.  Now is your chance to own one of these hard to find telescopes.  Purchased new, added ADM Vixen top rail to mount accessories without the weight of the Losmandy top rail.  The RC has a 2 1/2" Starlight Focuser and Starlight HSM auto focuser.  

Prefer local pickup but will ship if needed in a padded case in the original case box.  Note: this item is located in Granby, CT!    FL is my home address.   Example: Shipping to CA via 2 Day Priority Mail is approximately $135.00

A dewshield is included.  I will include a  a carry handle which attaches to the top rail for ease in handling/mounting.

Aug 2d, price reduced from $2500 to $2300.

Telescopes, Astronomy, Binoculars