From the
ATWB Customer Gallery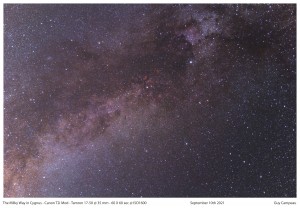 The M ilky Way in Cygnus
RCOS 12.5 f9 Truss Tube RC
For Sale, RCOS 12.5 f9 RC
I had hoped to have an observatory and then medical issues interveened.
I used to go to dark sites but now this excellent instrument is too difficult to handle. This is an RCOS 12.5 inch f9 RC manufactured in late 2007. I am the second owner, having acquired it in September 2012. Except for a few trips to a dark site it's been stored in my climate controlled studio. The mirrors are in excellent condition as far as I can tell. Everything works, PIR and TCCII and secondary focuser, thermal sensors.
It is supplied with:
70mm PIR, TCCII, mirror cover, secondary mirror cover, baffle cover, set 2.7inch tubes with AP 2 & 1 1/4 inch adapters,finder scope with rings, backing plate adapter (if PIR isn't used), Takahasi collimation scope, my file of all kinds of RCOS technical bulletins & instructions, black shroud & cap (custom made), wood shipping crate.

In the photographs it is shown on both an AP1200CPO3 and a Paramount, neither are for sale. It is also shown with a Monster Moog OAG and cameras, they are not for sale although if interested in them message me and I'll provide a price.
I will consider delivering it within a 200mile radius of Dallas, Texas. For other locations buyer covers shipping cost. If Paypal is used add 5%.

Telescopes, Astronomy, Binoculars