From the
ATWB Customer Gallery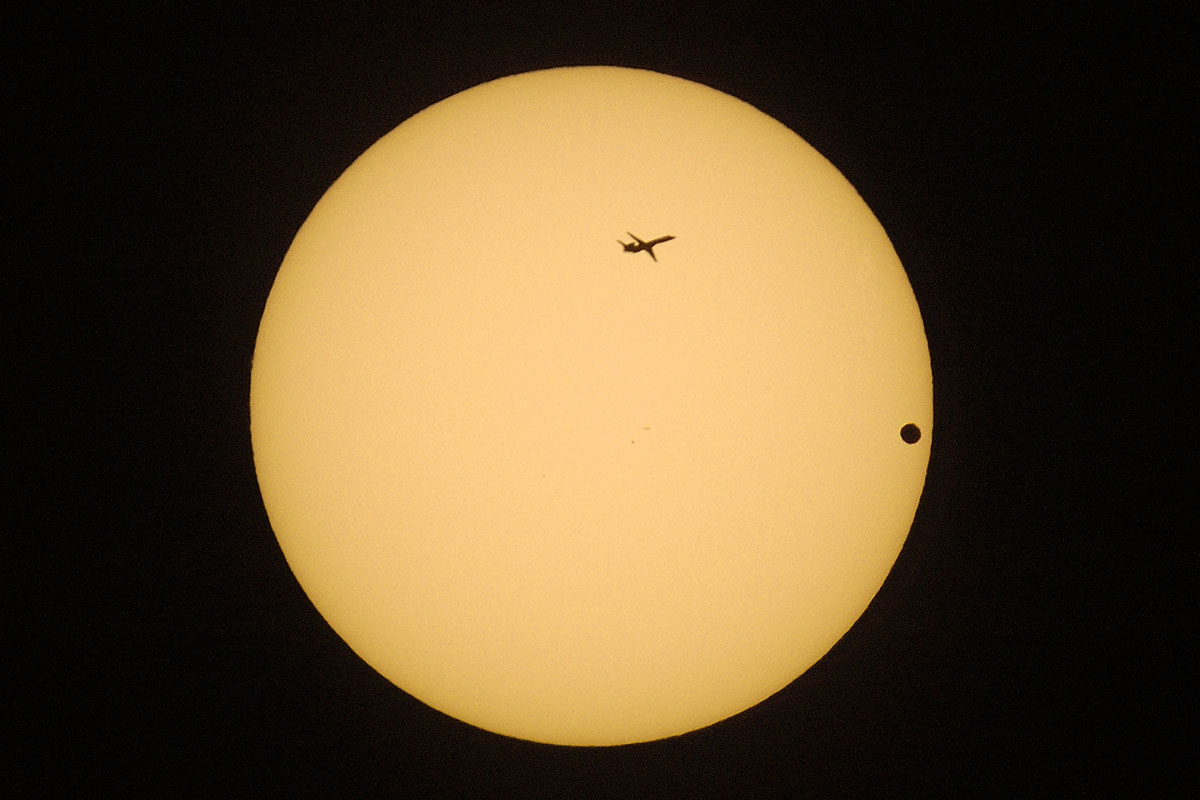 Venus Transit and Plane
Linhof Questar Heavy Duty Professional Tripod
This extremely heavy duty tripod was built in West Germany in the early 60's. Originally used in in medium-format photography and the film industry, they became the tripod of choice for the legendary Questar Telescopes due to their outstanding quality.

Rock-solid and extremely robust, this tripod can support up to 45lbs and has a maximum height of 85". I have functionally restored this tripod by replacing the pan handle and some of the deteriorated rubber components as well as lubricating all moving parts. There are some cosmetic paint rubs from handling but everything functions perfectly down to the bubble levels on the tripod and head. The tripod has a large geared central column which freely moves and is lockable. The replacment pan handle was custom made from stainless steel to be longer than the original for better positioning and leverage. The angle of the pan handle relative to the head is adjustable by turning the handle to lock the ball and socket joint on the head.

Included is a flat mounting plate as well as the heavy duty pan head which can be mounted directly to the column or on top of the plate. The column has an interchangable receiver for mouting different heads if you wanted to attach a custom mount.

Linhof Professional-R-Stativ Heavy Duty Pro Tripod
Large Geared Heavy Duty Centerpost
Deluxe Professional Pan Head

TECHNICAL DATA
Max. working height with Large Geared Centerpost fully extended, including Pan Head: 213cm / 84 in.
Height with Pan Head & Centerpost all the way down: 114cm/45"
Weight w/o Centerpost and Head: approx. 7.3kg / 16 lb.
Weight with Centerpost and Head: approx. 11.8kg / 26 lb.
Load capacity: over 20.4kg / 45lb.

Buyer pays shipping. Please include 3% for Paypal fee. Will consider trades.

Telescopes, Astronomy, Binoculars