From the
ATWB Customer Gallery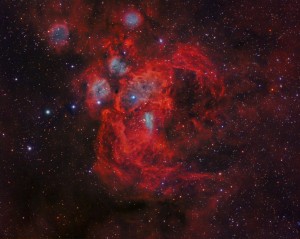 NGC 6357 Lobster nebula
Spacious home with multiple observatories available on 10-acres in the Chiefland Astronomy Village
There is a spacious home with multiple observatories available on 10-acres in the Chiefland Astronomy Village.
Imagine a place in warm southern latitudes, 29deg North, where your telescope is permanently setup and polar-aligned under Bortle 3-4 skies with SQM readings of 21.8 and steady seeing, with like-minded neighbors to share the experience. That special place is the Chiefland Astronomy Village, located not on a cold mountaintop or a dusty desert but in tree farming country near Florida's Nature Coast, nestled between Gainesville, FL. and scenic Cedar Key on the Gulf of Mexico.
The Nature Coast of Florida is a well-kept secret with a low cost of living, little traffic and a low crime rate. Our community is ten minutes South of Chiefland, Fla which provides nearby shopping, medical, dental and veterinary care. We are also near recreational bike paths, fishing, swimming, diving and tubing in freshwater springs and rivers, and boating on lakes and the Gulf. The Gulf can be reached by car in a half hour, the many cultural amenities of Gainesville and the University of Florida are a 50-minute drive, the renowned Ocala horse country is less than an hour away.
The Village is inhabited by an eclectic group of energetic and creative visual and imaging astronomers who willingly share techniques and love to learn, making for a genuine camaraderie so hard to find today. Our community includes full-time residents and others who drive or fly in for dark moon periods. When not observing we are often found helping a neighbor construct or improve an observatory or process a new I mage. Astronomical images taken from our Village and published in magazines rival amateur images taken anywhere else. A dozen permanently mounted instruments range from 14"-18" RCs and Schmidt Cassegrains to 28"-32" Dobsonians. We also have a well-utilized public observing field. We regularly meet for lunches and dinners at nearby restaurants, (where the astronomers make valiant and occasionally successful efforts to remember that when spouses are present conversation should not be devoted entirely to things astronomical).
Our Village has been the home of several major star parties, including two alternate "Winter Star Party" events held here due to hurricane damage in Florida's Keys.
The 10-acre property for sale includes a 2100 square-foot, triple-wide manufactured home, a 30'x60' steel building with commercial grade insulation and air conditioning, multiple electrical hookups for RVs and several additional observatories and open-air piers.
Hitch your wagon to a star, and write the next chapter of your life in the Chiefland Astronomy Village!
For more information please contact me for Jim King Reality's URL for this property.

Telescopes, Astronomy, Binoculars