Yet another fact blows up in the face of the AGW modelers.
Please don't miss that this is
sea ice
extent, the phenomena where the alarmists get inflamed whenever a large chunk naturally breaks off into the sea as warm ocean currents sweep by. Then the politicians and moviestars and tech billionaires fly down to Antarctica to get a last weepy look at the diminishing (errr, increasing) ice. And some Animal Planet show manages to find some penguins on a gravelly shoal and plays sad music to make it a tragedy. As has been shown in numerous studies, the ice over land has been increasing for a long time. So we increasing land ice, increasing sea ice. I guess that's cause for celebration among the weepy set, eh?
A recent paper in the Journal of Climate finds that most climate models erroneously predict that Antarctic sea ice extent decreased over the past 30 years, which "differs markedly from that observed." As noted in the abstract, Antarctic sea ice has confounded the models by instead increasing over the satellite era. In fact, it is currently at a record extent that is more than 2 standard deviations above the 1979-2000 average.

An Initial Assessment of Antarctic Sea Ice Extent in the CMIP5 Models
John Turner, Tom Bracegirdle, Tony Phillips, Gareth J. Marshall, and J. Scott Hosking

British Antarctic Survey, National Environment Research Council, Cambridge, UK
Abstract

We examine the annual cycle and trends in Antarctic sea ice extent (SIE) for 18 Coupled Model Intercomparison Project 5 models that were run with historical forcing for the 1850s to 2005. Many of the models have an annual SIE [sea ice extent] cycle that differs markedly from that observed over the last 30 years. The majority of models have too small a SIE at the minimum in February, while several of the models have less than two thirds of the observed SIE at the September maximum. In contrast to the satellite data, which exhibits a slight increase in SIE, the mean SIE of the models over 1979 - 2005 shows a decrease in each month, with the greatest multi-model mean percentage monthly decline of 13.6% dec-1 in February and the greatest absolute loss of ice of -0.40 × 106 km2 dec-1 in September. The models have very large differences in SIE over 1860 – 2005. Most of the control runs have statistically significant trends in SIE over their full time span and all the models have a negative trend in SIE since the mid-Nineteenth Century. The negative SIE trends in most of the model runs over 1979 - 2005 are a continuation of an earlier decline, suggesting that the processes responsible for the observed increase over the last 30 years are not being simulated correctly.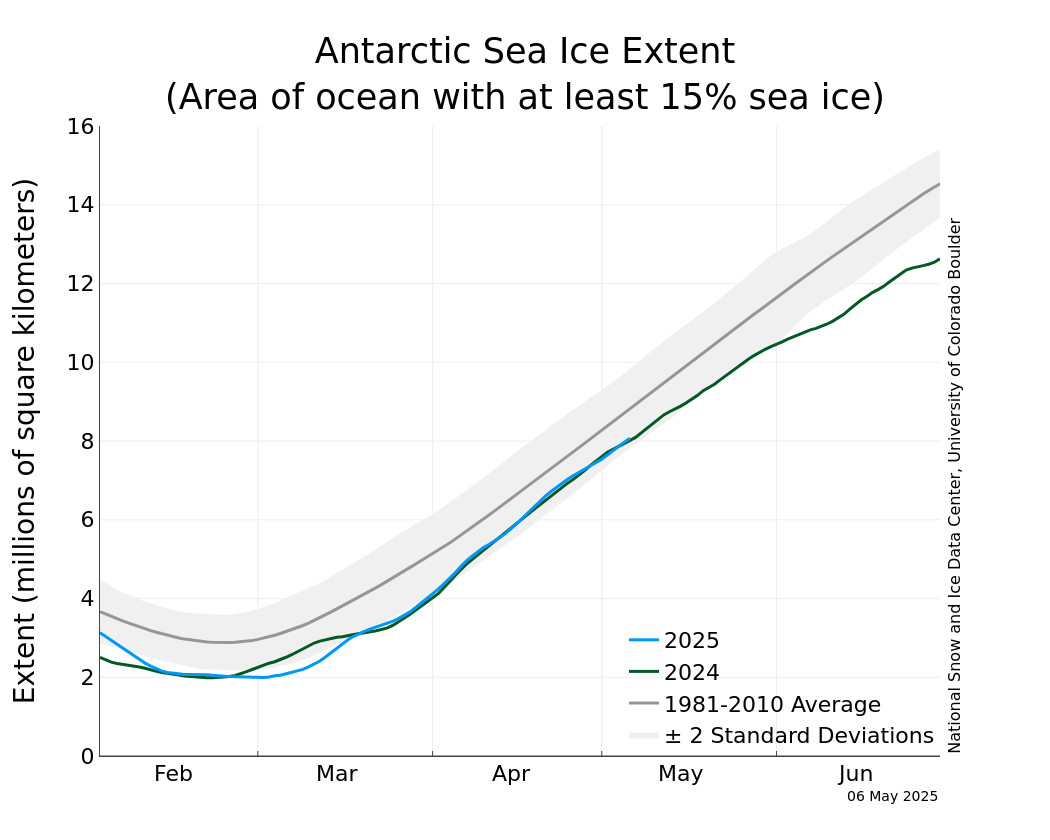 http://hockeyschtick.blogspot.com/2012/09/antarctic-sea-ice-reaches-record-high.html