From the
ATWB Customer Gallery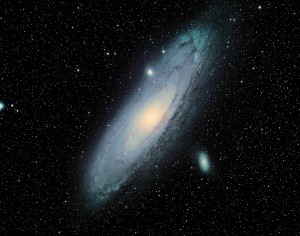 Andromeda Galaxy M31
One consideration is a permanent pier. Steel anchored in concrete. Positioned adjacent to any surface that the chair operator can navigate upon. Local welders would jump at the opportunity to help with the pier. It should have a vertical component combined with a horizontal component. And it should be over built.

_____// <---- (scope)
I
I
I
====

A scope with the shortest moment arm possible will yield the easiest eyepiece positions. Obvious choices are short tube fast refractors and newtonians. Barlows are our friends here. If the observer wishes for more focal length for solar system targets (and deep sky), then a Mak or SCT. Pocket sized budget wide field eyepieces will work really well with these longer focal ratio scopes. We have all over estimated on what weight scope we can handle. Pick an upper weight limit, and then aim for a mark safely below it. : )

The height of the pier will be determined by the length of the scope tube and focuser position. And the usual considerations that go with wheelchair operators.

The mount type.....well, I like alt-az mounts and atlases. But I'm not in a wheelchair and I observe from rural sky. With a permanent pier, digital encoders or goto should be a serious consideration. They can really simplify things.






Telescopes, Astronomy, Binoculars