From the
ATWB Customer Gallery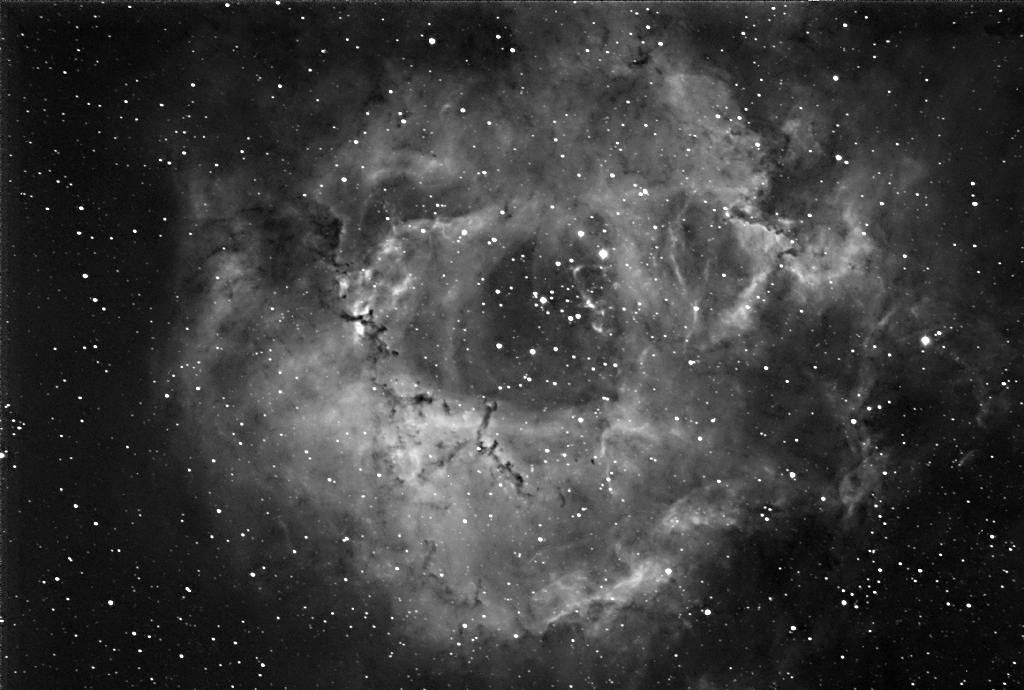 My First WOW image
My "First Light" with a Denkmeier Standard
What follows is my "First Light" testimony as posted at Cloudy Nights. It is an account of an average person's first experience with a binoviewer. This Binoviewer is the Denkmeier Standard with Adjustable SCD's and Dual-arm Power-x-Switch with 2" OCS. My scope is an Orion SVP 8" EQ mounted Newtonian at f/4.9. Ep's used were Astrola 32mm plossls, GSO 25mm plossls, Orion Expanse 20mm, Orion Sirius 10mm, & UO 6mm Orthos.
~Well, it took what seemed like ages to get the binos, but it was worth the wait. I was lucky enough to get an older pair second-hand and I had them shipped to Russ over and Denkmeier to upgrade the old Delrin ep holders to the new SCD's and to also add a Dual-Arm Power x Switch (genius invention). Of course, in the meantime I amassed far too many ep pairs and accessories just so I wouldn't be without when the binos arrived (someone really should coin a name for this phenomenon of the "down-time buying frenzy").
Anyway, after already familiarizing myself with the in's and out's of the setup in the daylight, I was ready for a go at night. Unlike many of us who get any new "toy", I didn't have bad weather... but it wasn't an ideal night for viewing (big surprise). For starters the moon was full which killed any hope of seeing DSO's (though I managed to sneek a peek at the Ring Nebula) and the seeing and transparency was just this side of terrible. But, I had to go out anyway.
Well, let me just say that even with these unfavorable conditions, I still had a blast! First on the night's list was to check out Jupiter. Not expecting much in the higher mags I kept it under 150x.
It was nice.
Very, Very nice.
Though fuzzy, I noticed detail I had never seen before and I could not believe how "big" it seemed! Before, in cyclops mode, Jupiter always seemed a bit small for our largest planet. I'm now seeing it the way I envisioned it being, truly grand. I can't wait for a night of better seeing so I can push the mag even higher - I can just tell that will be a sight to behold.
As mentioned before, I did sneak a peak at the Ring Nebula. I did this knowing full well that I would not see much, but I've learned in my backyard where the trees cover 50% of the available sky - you look at what's available. So, with Lyra looming overhead, the Ring was easy. Well, even without my NB filter, she showed up great! Once I popped in the filter, the sky sunk back and the ring "popped" right out at me. I had the feeling of floating right in front of it. Before, even under dark skys, it always seemed wispy, mysterious, and "flat". Now it seemed bold and full of form, maybe that's my brain playing tricks on me, but it's all about perception when viewing the heavens, right? I think that's why binoviewing has caught on they way it has. Many people want the experience of seeing the sky in the same familiar way we see everything else in our lives, with two eyes. It only makes sense.
Well, though I had recieved many good tips from others on what would be a good "short list" of objects to see on my first night, including Globular Clusters and some brighter galaxies, I'm afraid the radiant moon didn't agree. So, what could I do but slew my scope towards the source of my frustration.
The moon. You either love it our hate it depending on the phase. I, as I'm sure many of you would agree, generally wouldn't look at it on a full night with much enthusiasm. So, I suppose low expectations are the perfect breeding ground for surprise. Well, I'm happy to report being stunned.
The Moon, though lacking shadow-defining form and detail, was none-the-less spectacular. Still not my favorite time to view it, I now have a new appreciation for a full Moon. There was actually a momement where I became so lost in the FOV (in 25mm Plossls no less) that I actually felt a little dizzy as my brain percieved a lack of sure footing underneath; as though I was standing on a high ladder. It lasted only a moment as my brain caught on quickly to it being only an illusion, but what an illusion it was!
Practically speaking, I learned a few things about my own equipment in regards to binoviewing. I simply have too much. Russ once told me that his binoviewers, when coupled with the p-x-s, really "trim the fat". Truer words were never spoken. Before, in mono-mode, I found myself constanly changing out ep's in search of the perfect magnification. Needless to say, that endeavor eventually leads to frustration and doubt. I hate always wondering if there is a better view to be had, and if I could just find it.... Well, with the ability to switch between mags nearly instantly, thanks to the brilliant Power Switch, I could satisfy my need without always switching ep's. (Not to say that I didn't do that last night, but I felt I had to in order to weed out the unnecessary pairs.) I really had an intese desire to just leave in the pair I had and go with it. That's never happed before to me. It really makes sense to invest in one or two pairs of really nice ep's. I've got 30mm ultimas on the way (which I've heard nothing but rave reviews about) and I might get a pair of 12mm WA or so for higher mags, but really that's all you need.
The percieved FOV with two eyes is so much greater than with one, it really makes your 50degree Plossls seem like "windows" into space. I can only imagine what 65 or 70 degrees would be like. I'm limited somewhat by my f/4.9 optics, but I think I can take a little field curvature to experience the "full window".
As far a fit and finish goes, The Denks are top notch. Even though this pair is older, the age does not show. Russ did a great job refitting them and the collimation is perfect. I had no trouble merging the images once I locked the eyepeices into place. The balance on my scope wasn't too bad, I threw on an extra 10lb weight and that seemed to do the trick. I can really see the need to be comfortable while observing now. With views like these you really need to sit down and take it in; no more standing for me.
Many people seem to have reservations about investing in a pair of binos becuase of either the initial high cost of the various units and their "extras" (really necessities) and double the ep's, or simply their value in "improving" the view. Well, for me, it was worth it. I must admit a waning intrest as of late in observing. It's become a real hassle to drag my scope out only to end the night in frustration becuase I could never "relax". Sure, I enjoyed my views before, but even then I was always changing out my ep's and barlows, dealing with the eyestrain of keeping one eye closed, and feeling the separation of my 3-dimensional world and the 2-D sky I was peering into. Even after one night, I can feel the difference. Eyestrain is gone forever. I feel I can now commit to one eyepiece pair, and finally my worlds are reconciled with one another. As an artist I have a desire to experience my world naturally and, as far as I'm concerned, squinting all the time isn't natural - it's something you do when you're lining up measurements or aiming at something. You don't look at the Grand Canyon with one eye do you? Why look at something far more "grand" that way? I suppose I'm preaching to the choir...
Well, I think I've written enough. To end this, let me say that my first night out fulfilled all my expectations and more. I can see a long and rewarding relationship with my new Denks and can confidently say I will never look though my scope with only one eye again. - Jeremy Davis
Click here for more about this subject. -Ed.

Telescopes, Astronomy, Binoculars