From the
ATWB Customer Gallery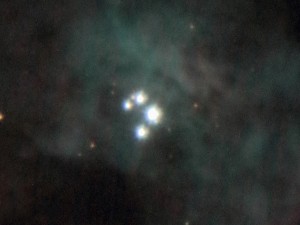 Trapezium via Siebert 36mm Observatory Series Eyepiece projection
StarBound Observers Chair
I usually write "Observing Equipment" reviews, but haven't spent much time outside of the optical equipment… Yet this review concerns a piece of observing equipment that gets used EVERY TIME I take a telescope out of the house, with EVERY telescope I own. The only other single piece of equipment that I can make that remark for is my Televue 35mm Panoptic eyepiece.

If you haven't ever considered spending the money on an observing chair, I will tell you that it might be a better investment than an expensive eyepiece. My observing chair has become an absolutely indispensable piece of equipment. Given that I DO own several telescopes, if you asked me to make a choice between my 80mm refractor and my StarBound Observing chair, it would be totally easy to never see the little refractor again.

An observing chair makes observing easier by making it more comfortable. A comfortable observing position is one of the KEY ingredients in teasing the maximum detail from ANY telescope. To attempt to see the faintest star in an already faint cluster, or to split a really tight double, or to tease a tiny bit more detail from that gas giant looming overhead, you need to be STEADY. Spending $2000 on a mount so your telescope is firmly supported seems reasonable, yes? Doesn't spending about on twelfth of that amount to keep your-self firmly supported sound like a bargain??? A good observers chair makes it easy to your head to the right height so that you can comfortably position it for long period viewing. As you move the telescope on the mount, you need to be able to move your head to keep your eye-eyepiece relationship as natural and comfortable as possible. This means keeping the height adjusted to that your neck is straight and your head is slightly tipped. An observing chair with an adjustable seat is the perfect way to accomplish this.

The StarBound chair is a sturdy observing chair with an adjustable seat platform. The materials and workmanship are very good. Mine stays outside in the shelter of the roof overhang but is otherwise exposed to the elements. It has been out there a year and shows no sign of rust or extreme weathering. The seat-cover is a heavy weight vinyl, and is well padded.

The chair folds to a relatively flat configuration, but if there were one thing I would change, it would be to get the design so that the seat base would fold against the frame so that it could be transported easier. As it is, the seat base does not fold up. If you can't get into the space, you have to remove the seat. This is easily accomplished without tools. There are large knobs that hold the rod that retains the seat, so while the design itself isn't optimal from that standpoint, the tool-less breakdown is at least a good compromise. I will mention that I was able to get it into the trunk of my Jaguar XJS along with an 8" SCT and GEM mount, a suitcase, ski clothes, eyepiece case, and computer bag, all without having to remove the seat. Because you can put the seat all the way up, it may be possible to position it in a corner of your trunk on its side so that it has a minimum impact on trunk space.

The step-less design makes it easy to get the seat height perfect. You simply lift on the seat base at the rear to slide it up, or lift it from the front let it slide down to the height you need. If you are seated and need to make a small adjustment, you only need take your weight off the seat and reach under yourself to tweak the height.

The range of adjustment allows me to get practically down to the ground when using my Meade 152ED and viewing overhead, or high enough up to use it with the Meade 152ED at low angles. If you know the size of the scope mentioned and the mount needed to hold it, you would know that this means that it will work for anything short of a large dob. At it's LOWEST setting, it wants to tip forward (but don't worry, you won't fall very far if you fall off), and at its highest setting, it is rock solid. What more can I say?

This is more than a well made product at a fairly reasonable price… It is an incredibly important observing aid; more valuable to me that a great number of eyepieces and accessories in my inventory, and one that GREATLY enhances my time behind the eyepiece. So in this case, I am offering a high recommendation for the product itself, but an even higher recommendation for the CONCEPT of using an observing chair. If you haven't used one, trust me, once you have one, you won't want to be without it.

As always, my warmest regards to my Marine Corp brothers and sisters. Semper Fidelis. And to all of our servicemen and women serving in the sand, may you come home soon, safe, and sound. For those that have come home aleady, may you sleep peacefully. For those that understand this wish, it is intended for you. There is no shame in crying about it. I cry with you.


Telescopes, Astronomy, Binoculars